'Criminal gangs' involved in Belfast hijackings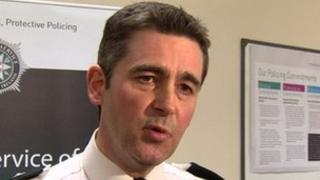 Police have said well-known criminal gangs are involved in the recent spate of so-called carjackings in Belfast.
However, they believe copy-cat crime is also to blame. There have been 12 incidents in the past fortnight, mostly targeting women drivers.
Police have set up a taskforce to deal with the attacks.
"They're not going to get away with it, because we are going to hunt them down, let me be very clear about that," Ch Supt Alan McCrum said.
"We have brought additional resources into the city, we're bringing the highest level of investigative rigour to bear in all of this.
"I would be very clear that as we move forward in this there will be arrests."
There were two more hijackings on Monday,
On the Lisburn Road, a man ordered a woman passenger from a car. She refused and as the man drove away, passers-by helped stop the vehicle.
Four hours later, at 21:15 GMT, a woman was forced by three men to hand over her car keys in Donegall Street.
They drove off and 15 minutes later the car was found crashed and abandoned in Norglen Parade.
Community fear
The Policing Board has asked for a report on the police response.
A spokesperson said: "The seemingly random nature of the attacks mean there is a fear in the wider community.
"The board has asked the PSNI to report to a meeting on Thursday on the police response and actions being taken in relation to these crimes."
Deputy Chief Constable Judith Gillespie said she fully understood why some motorists may feel "vulnerable" when out driving alone.
"I do not underestimate the impact of these incidents on those people involved, but it is important to highlight that despite these recently reported carjackings, the likelihood of becoming a victim of this type of crime is slim," she said.
"Thousands of motorists travel safely along our roads daily.
"We have increased our resources in the city centre and have implemented a comprehensive pro-active police operation to prevent these crimes taking place, investigate, detect and arrest those responsible and put them before the courts."
She said the majority of the recent incidents had been "opportunist" in nature.
Writing on her PSNI blog she outlined steps motorists should take to minimise their likelihood of becoming a victim of such a crime.