Libraries may escape cut in opening hours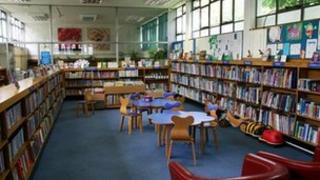 Cutbacks in library opening hours may be avoided, following intervention by the culture, arts and leisure minister.
Caral ni Chuilin said she had found almost £2.5m to protect library provision and help avoid shorter opening hours.
Libraries NI said it had reluctantly proposed shorter opening hours because of a £10m shortfall in funding.
It was intended to cut hours by 1,200 hours a week. That could now be halved with the extra allocation of money.
Some of the busiest libraries would lose eight hours a week with smaller branches losing a third of their hours.
There had been widespread opposition to the cutbacks and more than 7,000 submissions were made to the consultation on opening hours.
Ms ni Chuilin said she had found the cash by re-allocating her own budget over the next four years.
"I have listened intently to the concerns of the public, and I will find a way of protecting our library provision," she said.
"Easing the pressure on libraries will mean that Libraries NI does not need to make such major reductions in opening hours.
"My department and its sponsored bodies have already had to take very difficult decisions in light of reduced budget allocations over the next four years.
"However, I will need to re-profile some spending and I have made robust representations to the finance minister."
Libraries NI is due to meet on Thursday to decide on the reduced opening hours but it is now producing revised plans following talks with the minister.