Protesters occupy former bank in Belfast city centre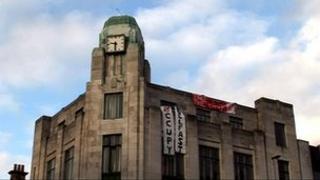 Around a dozen protesters have occupied a former Bank of Ireland building in Belfast City Centre.
Masked men and women are at the windows of the building on the corner of North Street and Royal Avenue.
The protesters, from the 'Occupy Belfast' group, have erected banners on the outside of the premises, which was sold recently.
Police and fire service are at the scene, but have not attempted to enter the bank and remove the protesters.
A police helicopter is hovering above the protest.