Firefighters tackle blaze at vehicle scrap yard near Mayobridge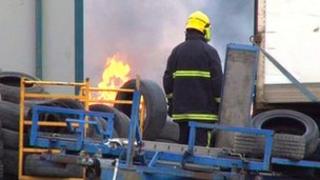 Fire crews have been tackling a large blaze at a vehicle scrap yard outside Mayobridge in County Down.
Thousands of tyres were destroyed in the fire at the premises on Newry Road.
The blaze has now been brought under control with no further threat to property or life.
Up to 40 firefighters have been involved in tackling the blaze which was reported at 21:50 GMT on Sunday night.
Group Commander John Allen said his officers were now focused on protecting the environment.
They may remain at the scene of the fire for at least 24 hours.
"Our primary concern now will be to control this fire in such a way that we minimise and mitigate any damage to the environment," he said.
"We are alongside a river and we are very conscious that fire water run-off has the potential to go into that river and result in a major fish kill.
"As a result we are modifying our tactics accordingly and we are working in conjunction with the environment agency."
Police said that at this stage the cause of the fire was unclear.