Carjackers target two more drivers in Belfast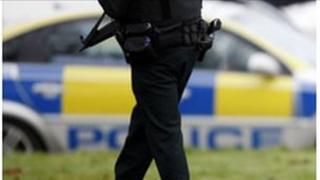 Carjackers have attempted to steal two more cars in Belfast.
It brings the number of carjackings or attempted hijackings across Belfast to a total of nine in the past 11 days.
The incidents, targeting mostly women, have left drivers shocked and injured.
On Friday night, a man tried to pull a woman driver from her car in the Grosvenor Road area. In north Belfast a group of men bundled a driver into the back of his car, beat him and released him before driving off.
Police said the woman was targeted in west Belfast at about 21:00 GMT. Her attacker tried to pull her from the car. But she refused to get out. So he stole from the rear of the car and made off.
He is described as being in his early 20's, wearing a dark-coloured hooded top with a light coloured scarf over his face. He also wore jeans and white trainers.
In north Belfast, a group of men hijacked a car in Eskdale Gardens at about 19:30 GMT.
The man was assaulted before he was freed. The car was discovered on fire a short time later in the Rosapenna Street area.
No-one was injured in either incident. Police have appealed for information.