Knowing your PQQs - how red tape is slowing up the construction industry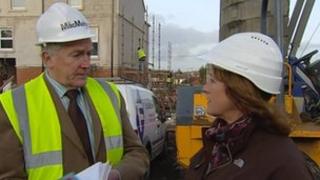 Cookstown builder Sean MacMahon has been in the construction business for more than 30 years.
But his experience and reputation seem to count for little when it comes to winning public sector contracts.
The procurement process has become a bureaucratic nightmare for small firms like his.
Before companies are invited to bid for a contract, they have to jump over a set of hurdles known as the Pre-Qualification Questionnaire, or PQQ.
It probes areas such as financial standing, professional and technical capability, health and safety and environmental management.
It can take days, if not weeks, of work to complete a PQQ. Large companies often have a department dedicated to the process.
But many smaller companies have no option but to pay a consultant to do the job for them. And there is no guarantee that the finished document will pass the test.
Standing on a building site in Glengormley, Sean leafs through a weighty book that comprises a completed PQQ.
He said: "It's very costly to produce and in order to achieve qualification for tender lists we've employed consultants to help us gain selection.
"We've got it on good authority that very few contractors are getting over the line. It's very frustrating, very annoying and very demoralising."
The framework for public procurement is set down by European Directive. A recent report prepared for the European Commission found that the UK had the slowest and most costly procurement procedures in the EU.
The Royal Society of Ulster Architects says its members are also falling foul of this bureaucracy. It is following the lead of its Scottish counterparts by lobbying politicians for a review of the procurement process.
President Norman Hutchinson said: "It's regarded as a risky business so civil servants are making sure every 'i' is dotted and 't' crossed. We need a good review of how procurement is done in Northern Ireland. It would be very worthwhile."
The problems with procurement could not come at a worse time for the industry. There were 53 insolvencies among building firms in the 2009/2010 financial year, and the number rose to 88 last year. Many self-employed tradesmen also went bankrupt.
The Department of Enterprise said almost 33,000 people were working in the construction sector in September - that is down 8.5% on the previous year.
According to the Construction Employers Federation, at least 30,000 jobs have been lost in the industry over the past four years.
The SDLP's Patsy McGlone has seen his Mid-Ulster constituency hit hard by the downturn. He chairs the Assembly's All Party Working Group on Construction which brings together representatives from the industry.
On Tuesday, the group will meet a "mini-executive" of several ministers, including Sammy Wilson, Arlene Foster and Danny Kennedy.
"It could be looked at that the executive itself is holding back some major infrastructure projects until before the next election so as it's seen to be spending money," said Mr McGlone.
"There's no point in doing that if, in the interim, a lot of firms go out of business. We need to look at the Programme for Government to see how and where it is spending money."