Bed shortage leads to patients discharged and operations cancelled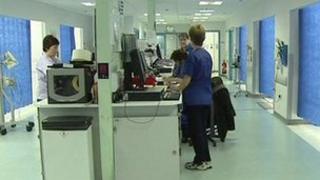 Under pressure health staff at several of Northern Ireland's accident and emergency departments have been advised to discharge patients and cancel operations in order to free up beds, the BBC has learned.
An email sent to senior management last Friday revealed a bed shortage in all health trusts last weekend.
It said patients were waiting on trolleys at Royal Victoria Hospital.
Dr Tony Stephens, medical director of its A&E, has "apologised unreservedly".
"We are looking after three maybe 400 people a day attending our emergency department - up to thousands every year - and most people have a good experience of care," he said.
The leaked email also advised of a "bed crisis" in Antrim Area Hospital.
The email from the director of acute services in the Belfast trust, Patricia Donnelly, said that the Antrim, Ulster and Belfast emergency departments were badly affected with a number of patients waiting many hours on trolleys for admission.
The email said unscheduled admissions had added pressure.
"In Belfast we have had 154 unscheduled admissions in the last 24 hours which represents a significant increase with unfortunately a number of patients waiting many hours on trolleys for admission," it reads.
Severe pressure
In order to free up beds, staff were asked, where possible, to discharge patients.
"It is imperative therefore that we expedite discharges urgently to enable us to manage our unscheduled take and any overflow from other hospitals," the email said.
With a bed crisis developing in the Northern Trust, staff in Belfast were advised that only the most urgent planned admissions could go ahead.
Health Minister Edwin Poots admitted there are "concerns about the pressures on emergency departments".
Last Monday the BBC contacted the trusts and was assured the health service was experiencing nothing out of the ordinary.
The leaked email, by contrast, describes a service under severe pressure.
The Northern Health Trust issued a statement in response to the BBC making details of the email public.
In it, the trust apologised unreservedly to anyone who had to wait for a bed at Antrim Area Hospital.
It also said that at busy times the trust accepted that patients who had been assessed as needing a bed may have to wait on trolleys in the emergency department.
The trust also said that its key priority remained ensuring that all patients received safe, reliable care.
Dr Stephens denied that the temporary closure of Belfast City Hospital's accident and emergency department, which came into effect in November, was in any way responsible for the increase in admissions.
"We have consolidated our resources on two sites and continue to provide good care," he said.
"The challenge is for the capacity of the hospitals themselves, it's not an issue for the A&E department themselves."
He blamed seasonal viruses for the recent increase in A&E visits.
The health minister also apologised to those kept waiting
"I want to apologise to people who have experienced delays. I also want to make it clear that emergency cases will always be dealt with as a priority.
"Fluctuations will always occur; the HSC Board is working with the trusts to manage the current situation.
"This is part of contingency planning as, at this time of year, there will be circulating winter viruses and people with chronic conditions are more likely to have exacerbations of that condition."