Stephen Farry criticises DEL abolition justice plan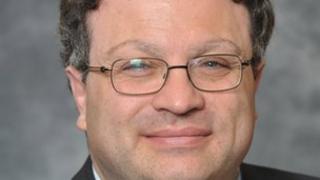 The employment and learning minister has said a proposal to abolish his department was "driven by politics".
The first minister and deputy first minister proposed that the Department for Employment and Learning (DEL) should go completely.
Its powers would be divided between the education and enterprise departments
Stephen Farry said DEL was picked because "it happened to be held by an Alliance minister".
He said this "was without any consideration as to whether this is the right department".
Plans to abolish one of Stormont executive's departments were announced on Tuesday.
It followed discussions at Stormont Castle over the future of the justice ministry held by Alliance leader David Ford.
Mr Farry said he supported reducing the number of departments but said a "proper discussion was needed".
"As a party we do support a rationalisation of government, it was in our manifesto for the assembly elections that we called for a reduction from 12 departments to eight departments," he said.
In answer to a question on whether he acknowledged that the Alliance Party may have to sacrifice his department in order for Mr Ford to continue as minister, Mr Farry said that "it is a discussion that we have to have".
Earlier, Mr Ford criticised the plans to abolish DEL without looking at other areas of government.
He said his party was not against a reduction in the number of assembly departments but said there was a need for a single strong department of the economy.
"We see what is apparently a carve-up, a fix to transfer some DEL functions to a Sinn Fein-controlled department in education and some to a DUP-controlled department in department of trade and investment," he said.
"That looks to me, not just as potentially seen as malicious towards the Alliance Party but is actually extremely bad government, not to keep the economy departments together but to further fragment them when we should be moving towards move streamlined government."