PSNI say Belfast carjackings not linked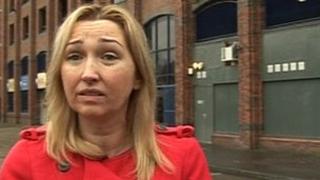 Police have dismissed claims that four recent carjackings near Belfast city centre are connected.
They happened over the course of a week and all the victims were women.
All four cars were subsequently found burnt out or abandoned in the neighbouring Divis and Grosvenor areas of west Belfast.
Supt Alan Todd said: "The evidence at this stage is that these incidents are not linked and have not been committed by the same people."
"In fact we have already made one arrest in relation to one of the incidents and that matter will now be before the courts."
SDLP Lower Falls councillor Colin Keenan thinks carjackers are using a bridge near Cullingtree Road as a quick getaway.
"It has been our experience that this bridge provides an easy getaway in both directions between the Divis estate the periphery of the city centre," he said.
The four cars were found burnt out or abandoned close to the bridge.
"I wouldn't like to say that it is indicative of the Divis estate," he said.
"There are many good people who live in that community. I have certainly felt in the last eight months that there has been a spike in the amount of cars being hijacked and also being burnt out in my council area."
Andrea McVeigh's car was hijacked last Thursday at 11:00 GMT just off the Dublin Road.
She was going to the cinema with a friend.
"I think they just did it for the buzz," she said.
"We think we were targeted maybe because we were women. We now feel very exposed, vulnerable, anxious, neither of us feel safe anymore."
She feels such incidents are happening more often.
"Whether it's the same people or they're copycats but certainly my car got stolen, got burnt out," she said.
"The guys weren't caught, they probably never will be caught so they've got away with it so I can see from their point of view why they think it's ok to go out and do it again."
Supt Todd stressed that such incidents were rare and said there were no carjacking "blackspots".
"It would be unfortunate for me to say that any area of the town was more or less likely for this to happen and I certainly wouldn't want to tarnish any area's reputation by saying so," he said.
"There may be local issues from time to time about certain areas being used to drop off vehicles or dispose of vehicles after they're stolen.
"Where that's the case our local area commanders will work with their local DPP and any other stakeholders to fully understand what's behind those issues and see where we can address them going forward."
Supt Todd said there were ways the public could help protect themselves from being the victim of such crimes.
"Keep your doors locked, chose your routes carefully, where you travel and at what times you travel and don't leave your car keys in the ignition either when you're getting out to pay for parking or filling your vehicle up with petrol or any of those other moments where a momentary lapse might leave yourself or your vehicle vulnerable," he said.
"It's important to remember that your chances of being a victim of this type of crime are very low in Northern Ireland."