Pat Buckley is in court over alleged sham marriages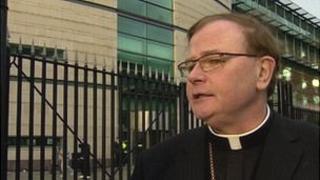 "Independent bishop" Pat Buckley, has been in court in connection with alleged sham marriages.
The 59-year-old, from Queen Street, Larne, is accused of conspiracy to defraud the Home Secretary by facilitating foreign nationals to gain entry to the UK.
There are fifteen other defendants in the case.
Speaking afterwards, Pat Buckley said he had never knowingly been involved in a sham marriage.
He said the prosecution was an attempt by the "establishment" to silence a priest who had been the "champion of the marginalised" for 36 years.
Pat Buckley sat in the public gallery during the short hearing at Belfast Magistrate's Court on Tuesday.
The case was brought following a five-year-long police operation. The charges apply to dates between 1 January 2004 and 16 September 2009.
Solicitors for several of the accused indicated their clients would be applying for legal aid.
The next hearing has been set for 7 February.