Film teen 'left for dead' in sectarian attack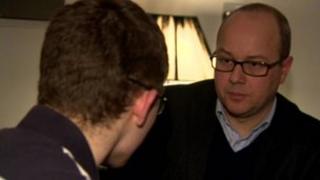 A Catholic teenager has said he was left for dead in a sectarian attack as he left a film set in Belfast.
James Turley, 18, was working as an extra on The Good Man in the Village area of south Belfast when he was attacked on 6 January.
He told The Irish News that during the assault one of his attackers said: "That's enough. I think he's dead."
Police have confirmed that they are investigating a sectarian motive for the attack.
Mr Turley, from the Short Strand area of east Belfast, said he was confronted by a group of people as the production team finished filming a scene at the junction of Frenchpark Street and Ebor Street.
Four other friends who were with him had also been taking part in the film.
The gang surrounded their car, pulling off a wing mirror and smashing a window.
Kill
Mr Turley ran from the scene, but was caught.
He said that at one stage he tried to hide in a nearby house, calling on the family: "Please help me. They're going to kill me."
However, the gang pursued him into the home.
Mr Turley said: "They all just came in and started beating me."
"They stamped on my head and everywhere. The woman said: 'Get him out of my garden' and they dragged me out into the alley.
"They just started beating me again. They put me in a bin and were pushing me somewhere. I didn't know where I was going, when I got put in the bin I thought that was it."
Mr Turley said at one point he was knocked out, but when he started to come round he heard one of his attackers saying: "That's enough. I think he's dead."
Later he managed to flag down a passing motorist who drove him to the Royal Victoria Hospital, less than a mile away.
Crowd
His mother Donna, whose husband Frank was murdered in 1998, said she thought her son had been killed. She went to her son's bedside last Friday.
She said: "It's like deja vu. I can't remember getting to the hospital. I just kept thinking: 'Please, please, just let him hang on for me'."
James's friend Sammy McDaid said they came under attack from a crowd of about 25 people, mainly teenagers.
"As I tried to close the car door, they wouldn't let me, they were holding the door and they were kicking us in through the door," he said.
"I had to pull one of my friends into the car on top of me in the passenger seat.
"They were kicking and throwing punches through the window.
"As I tried to close the car door, one of them slammed it onto my leg, back and forth.
'Scary experience'
"As I got the car door closed they just began to wreck the car, kicking the whole car, as the driver got into the car, they punched my passenger side window in.
"I tried to turn my head but the glass came in all over me. They were punching us on the back of the head.
"It was hard to believe that what was happening was actually happening. It was a scary experience."
Paula Bradshaw, from the Greater Village Regeneration Trust, said she was saddened by the attack. She said police knew who was responsible but needed people to come forward and give them evidence.
"As a mother of a young son I can imagine what it must have been like to take that call (about the attack)," she said.
"This was an horrific crime and the young people responsible have to be taken to task."
The Good Man is set in Northern Ireland and South Africa and stars Irish actor Aidan Gillen, who also starred in the hit television series The Wire.