Hundreds of gaps in Belfast nursing rota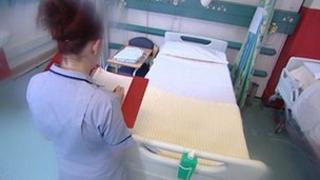 Figures obtained by the BBC show that there were hundreds of gaps left unfilled in nursing rotas over the last month in Belfast hospitals.
The Royal College of Nursing said it is shocked by the figures and has accused the Belfast Trust of failing patients and exploiting workers.
Thousands of other positions had to be filled by temporary staff who are paid less.
Over four weeks there were 558 gaps in the nursing rota.
Some nurses would have been doing the work of two people.
The worst affected was the Royal Victoria Hospital where between 1 December 2011 and 2 January there were 359 gaps.
In Belfast City Hospital there were 135; the Mater 46 and 18 in Musgrave Park hospital.
Of the 558 unfilled shifts in the Belfast Health Trust, 38 were in the Royal's A&E.
All of this has happened under the watchful eye of the public.
Five-year-old Josh has cerebral Palsy and relies on a machine to be fed.
On New Years Day, the area around his stomach where the tube is inserted became infected.
Prone to epileptic fits, Josh was brought to the Royal Belfast Hospital for sick children. While it wasn't an emergency - the lack of attention eventually forced the family to leave.
His mother said: "It was very slow and it was just as if they didn't care at all.
"They might have had another emergency, I don't know, but they didn't come round and explain to anybody why we had to wait so long.
"They did tell us it would take an hour and a half and we were sitting there over three hours."
The BBC has also learned that of the shifts that were filled in the four weeks, more than 3,000 were done so by using temporary staff from the Nursing Bank and agencies.
While Bank nurses are Health trust staff wanting to earn extra money, there has been criticism from the Royal College of Nursing that they are paid a basic flat rate.
The RCN's Janice Smyth said: "The usage of banking agency appears to be very high.
"Deploying nurses through the bank at this level is nothing short of exploitation of nurses terms and conditions, because they earn less money working through the bank than they are entitled to."
Agency staff come from outside the trust and are paid more - costing the health service money.
Targets not met
The Belfast Trust said that with regard to filling shifts, resources are used as flexibly as possible.
Brenda Creaney, the director of nursing at the trust, said there had been a lot of pressures on the trust during the period and the figures should be seen in context.
"We cover as we need on a day to day basis," she said.
"Unfortunately we do have high levels of sickness."
Too few nurses are being blamed for paramedics failing to meet their 15-minute targets for handing over patients to nurses.
The trust has confirmed that at at one stage last Thursday night seven ambulances were left waiting with patients on board.
One senior medic told me that some nurses aren't being allowed to nurse - with no dedicated porters in the Royal Victoria hospital - many are having to push patient trolleys instead.
The recent review into health led by John Compton talks of change that will mean a more efficient and better service.
But before that can be allowed to happen - managers need to get some of the very basics such as staffing right or Mr Compton's words will be mere rhetoric as opposed to being realistic.