Bridie Gallagher: Ireland's 'first international pop star'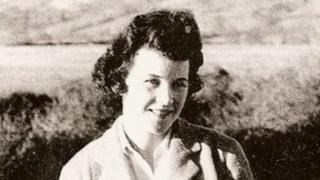 Bridie Gallagher, who died on Monday morning aged 87, was Ireland's first truly international pop star.
Known professionally as the 'Girl from Donegal', over a 50-year career she played everywhere from the Royal Albert Hall in London to Carnegie Hall in New York and Sydney Opera House.
In a television programme recently broadcast about her life, another Donegal singer, Daniel O'Donnell, said: ''I always say Bridie was the first from Donegal to pave the way for all of us that came after.
"And I would say anyone that you would talk to of the Donegal singers would say that because coming from Creeslough, or coming from where I come from, it's a world away from where we ended up.''
Another successful Irish singer who hit the big time in the 1960s was Dec Cluskey of The Bachelors, who often performed on stage with Bridie. He also credited her as being the breakthrough artist for Irish performers.
''We were in Ireland doing the ordinary shows like the Theatre Royal and the Olympia and the Gaiety and theatres like that in Dublin, we looked at Bridie and thought 'my God, that's what we aspire to do' and she absolutely opened the doors for all of us artists," he said.
"And I think we shouldn't forget that she brought glamour to the Irish stage, she dressed like an international star and that was unheard of in Ireland at that time.''
Born in Creeslough, County Donegal, Bridie Gallagher made her home in Belfast almost 60 years ago and it was there she was discovered by a Decca talent scout in 1956.
Her first single for them - A Mother's Love's a Blessing - was an instant hit and within a few short years she was performing on Sunday Night at the London Palladium.
She went to the States for her first American tour in 1959. A home movie of that tour - made by her husband Bob Livingstone - shows Bridie in New York's Time Square.
In an interview recently she recalled being there: ''I always loved New York, I felt at home in New York for some reason or other. And I always remember going to Times Square, you know and I felt I've really made it now.''
Bridie had indeed made it and her career took off in a spectacular way.
The late 50s and 60s saw tens of thousands of Irish people emigrating.
In Britain, America and Australia, Bridie had ready-made audiences who packed out the venues she played.
In one particularly memorable show at the Albert Hall mounted police had to be used to hold back fans who blocked the surrounding streets.
Former Belfast Telegraph showbusiness reporter, Eddie McIlwaine, recalled that audiences loved Bridie's style.
"She had this thing about her, this quality that stirred audiences," he said.
"She could get an audience going and swinging with her immediately because of that conviction she had in her own ability. She had a great confidence about her and she could swing into a song.''
One of Bridie's biggest fans is Joan Toibin, originally from County Cork but living in London for more than 40 years. She recalled the singer who touched the hearts of those who came to see her.
''She had many, many fans and they'd be waiting outside the backstage for when she would come out to sign autographs for them," she said.
"They'd be shouting 'Bridie, Bridie' and she would give a little time to each and everyone of them.
"You know, she never just walked away, she always spent time with them after the shows. They could come up and talk to her and, I think that's why she was so popular, she gave so much time to her fans.''
But there were some darker moments for Bridie.
She was on the road touring endlessly as well as being a wife and mother of two sons. Her marriage eventually broke-up - a fact she hid from the public for many years - and her youngest son, Peter, was killed at the age of 21 in a motorbike accident.
She stopped performing for a while but was eventually persuaded to return to the stage
Her eldest son, Jim, now a civil servant in Belfast said: ''When she first hit the big time it was quite a crazy life for a relatively young woman in those days who'd never been outside of Ireland.
"I think what was unique about her career was that she brought a touch of magic and glamour to Irish show-business and she gave new life to so many Irish ballads which had either been forgotten or were seen as old-fashioned.
''Bridie was thrilled to see the recent tv programme about her career and we are delighted that she got the opportunity to see that before she passed away. She was a singing icon and I know people will remember her with great fondness.''
Bridie Gallagher: September 1924-January 2012.