Girl treated for smoke inhalation after Belfast petrol bomb attack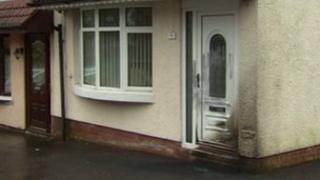 A seven-year-old girl has been treated for the effects of smoke inhalation after a petrol bomb was left on the doorstep of a house on the outskirts of west Belfast.
The device was left at the home in Colinvale in Poleglass at about 02:30 GMT on Sunday.
The child received treatment at the house but a woman who was inside at the time of the attack was uninjured.
Smoke damage was also caused to the front door of the house.
Police have appealed for a man who got into a taxi in the area shortly after the incident to come forward.
They also want to speak to any taxi drivers working in and around Colinvale as part of their investigation into the incident.
Sinn Fein MLA Jennifer McCann said the family had a lucky escape.
"This is a cowardly attack on a mother and young child and it was only for the quick thinking and a neighbour noticing this happening that they were able to put the flames out and get the family out," she said.
"I think only for the grace of God we could be looking at someone being killed this morning or seriously injured in this attack."
SDLP assembly member Alex Attwood said he was disgusted at the attack.
"Attacks like these, which deliberately endanger the lives of young children, are totally intolerable and must stop," he added.
"It is extremely fortunate that no one has been killed here, but that is no thanks to the reckless, callous and cowardly actions of those responsible."