Woman describes car hijack ordeal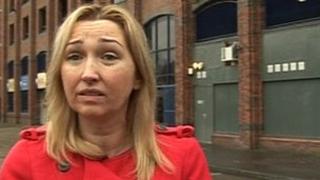 A woman has been describing how her car was hijacked in Belfast city centre.
Andrea McVeigh and a friend were on their way to the cinema on the Dublin Road on Thursday when the incident happened.
She had parked her car on Hardcastle Street, when they were ordered out of the vehicle just after 1100 GMT on Thursday. Neither woman was injured, but both are in shock.
"I never thought anything like this would happen," she said.
"It was eleven in the morning, we were going to the cinema. It was paralell to the Dublin Road, which is one of the busiest streets in the city centre.
"I thought we were perfectly safe. Two women, it just didn't even occur to me that we would be car-jacked at all. It didn't cross my mind. I felt very safe up until then, and now I don't feel safe at all."
The men were described as being in their late teens, one with blond hair, wearing a navy or grey tracksuit whilst the second was about five ft ten inches tall with dark hair, wearing dark clothes and a baseball cap.
The car, a silver Renault Megane, was later reported to have been burnt out in the Ross Street area of Belfast.
Police are appealing for information.