Gerry McGeough suffered inequality, pardon review hears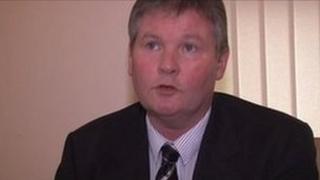 A former IRA man seeking a Royal pardon after being jailed for an attempted murder 30 years ago has suffered inequality, the High Court has heard.
Lawyers for Gerry McGeough claimed he was being treated differently to other so-called political prisoners because he was no longer a member of Sinn Fein.
McGeough, 53, from Dungannon, Co Tyrone, is serving a 20-year sentence imposed last year for shooting off-duty UDR soldier Samuel Brush.
Mr Brush was attacked in June 1981.
He was working as a postman at the time, and was making a delivery near Aughnacloy when he was attacked.
McGeough was convicted of his attempted murder, possession of a firearm and ammunition, and IRA membership.
Under the terms of the Good Friday Agreement he is expected to serve only two years of his sentence.
If he fails to win a judicial review he is still due for release in April next year.
Mr Brush, now a Democratic Unionist councillor in Dungannon, attended court to hear submissions on behalf of the man convicted of trying to kill him.
It was argued that the Royal Prerogative of Mercy should be granted to ensure equal treatment with other convicted terrorists who benefited from it.
A judge was told the warrant was used to free others such as James McArdle, the Armagh man responsible for the 1996 London Docklands bombing.
'Distasteful'
Sean Devine, counsel for McGeough, said: "What seems to be the elephant in the room is this was a political device where political motives effectively seemed to trump the legal framework that was in place."
He stressed that no criticism was being made of it, adding that some consequences of the political process and Good Friday Agreement were "distasteful".
One of those was that some men convicted of atrocities prior to the peace accord were being released after as little as two years in jail, the court heard.
"There are people, for example, who have committed sectarian massacres in the mid-1990s who benefited from the Good Friday Agreement," Mr Devine said.
He claimed it was "equally distasteful that because the Good Friday Agreement is in the bag and because Mr McGeough is no longer a member of Sinn Fein and perhaps seen to be more vulnerable" that he should receive unequal treatment.
Part of McGeough's case is that it would be unlawful to draw a distinction between him and others because he previously served jail terms in Germany and in the United States.
Mr Devine added: "The logic applied by the authorities to achieve what they considered the right result in this case was, we say, twisted and tortuous."
According to his argument McGeough should not have served any time for the attempted murder.
The judge, Mr Justice Treacy, remarked: "I have to say I find that a startling proposition."
Tony McGleenan QC, responding for the Secretary of State, argued that there were "categoric" differences in McArdle's case.
"He, looked at in the round, was in custody for a period of time that would have taken him beyond the two-year threshold," Mr McGleenan said.
"But because of the way he was arrested and charged he was technically not going to qualify.
"That's not Mr McGeough's case, it's a very long way from it."
Judgment in the judicial review application was reserved.