Belfast Lough oil tanker cargo transfer gets underway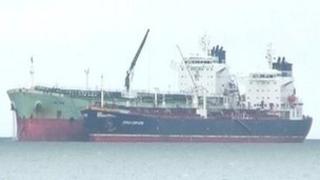 An operation to remove 54,000 tonnes of oil from a damaged tanker in Belfast Lough was launched late on Friday.
The Genmar Companion had been sheltering off the Copeland Islands since developing a crack on its deck on 16 December.
The operation to transfer the vacuum gas oil was delayed several times due to the extreme weather.
Environment Minister Alex Attwood said the operation, which could take up to 36 hours, began on Friday night.
A 23-strong crew have been on board the ship since the crack was detected when passing the Donegal coast.
The crew are mostly from India and the Philippines and among them is a two-year-old girl.
Transferring the oil from the Genmar Companion to the BW Seine is expected to take between 24 and 36 hours.
The ships have been manoeuvred together by tugs and are being held side by side. A one-mile exclusion zone has been put around the ships while the transfer takes place.
The crack in the deck of the Bermudan-flagged tanker was first noticed as it passed 40 miles west of Tory Island on its journey from Rotterdam to New York.
Damage is not believed to have extended to the oil cargo holding area of the ship but as a precaution it was decided to take shelter in Belfast Lough.
After the ship-to-ship transfer is complete the Genmar Companion will be taken to Belfast harbour for repairs.