Oil imports fall as consumers turn down the heat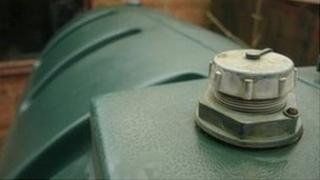 The demand for home heating oil has fallen sharply as cost-conscious consumers take advantage of milder weather to turn down the heating.
The move is reducing the pressure on stretched household budgets.
The Northern Ireland Oil Federation has reported that imports of kerosene have fallen by more than 15%.
A mixture of high energy prices and reduced consumer spend has resulted in the fall-off in orders for home heating oil, the federation said.
"It is a difficult time for both consumers and local distributors, high prices are not good for anybody," said David Blevings of the Oil Federation.
Faced with difficult economic conditions and high energy costs, many households are trying to make savings.
Reducing room temperature by just 1°C can cut a typical heating bill by up to 10%, the Energy Saving Trust said.
The oil market outlook is far from encouraging for consumers.
Iran has warned the United States and European Union that imposing sanctions on its oil industry would destabilise markets.
World prices have already surged by 4% since the start of the year, reaching an eight-month high earlier this week.
Northern Ireland consumers are now facing higher prices with the typical cost of a 900-litre fill jumping by over 2.5% to £561.