Electricity interconnector repairs behind schedule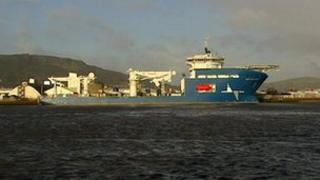 Work to repair an electricity interconnector between NI and Scotland has fallen behind schedule and could cost up to £20m.
Both submarine cables which run between Islandmagee and Ayrshire in Scotland are currently out of action.
The company responsible for maintaining power supplies in Northern Ireland said the break in the interconnector should not affect security of supply for January and February.
However, it could cost £20m to repair.
The fault in one of the underwater cables has been detected. Once it is fixed, work on the other will begin.
However, sea currents and weather conditions have hampered progress in the repairs, which are now behind schedule.
Repairs are being carried out by a ship called the North Sea Giant - one of the largest of its kind in the world, capable of deep seabed drilling and construction.
But the weather has currently forced it into port.
The fact the interconnector is out of action means Northern Ireland cannot rely on importing energy from across the Irish Sea.
Economist John Simpson warned: "If a power station now tripped there's a risk that we would have the lights going out, if it was at a peak period during the day or during the evening.
"Don't forget in cold weather those peaks are even worse.
"So at the moment we're at risk, until the interconnector is repaired, that we could have some lights going out on some cold, dark nights."
However, Brendan Woods, grid operations manager at SONI, the company responsible for maintaining power supplies in Northern Ireland, said supply should not be affected.
"The loss of the interconnector for such a period does reduce our operating margin which obviously increases risk," he said.
"But we manage that risk on a day to day basis and we are confident we can do so into the future
"It would take the sustained loss of another major generating unit in order to further reduce those operating margins which would make it very tight, in which case the risk obviously does increase."
Mutual Energy, which owns the interconnector said the cost would be borne by the insurers.
Its director Paddy Larkin said: "The cost of the repairs of the cable are very significant in terms of it's a major engineering enterprise.
"To mitigate against those costs Mutual Energy and its subsidiary Moyle Interconnector carry insurance for these incidents and this incident we carry insurance for.
"So as far as I'm concerned when the bills start to roll in for this it's for the insurance companies to pay and not the consumer."