NI starlings and houses sparrows at risk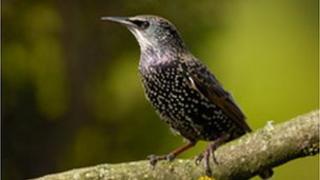 Starlings and house sparrows are the most common birds in Northern Ireland's gardens but nevertheless, their numbers have fallen dramatically.
"Both species are in so much trouble that the Royal Society for the Protection of Birds (RSPB) has them on the Red List, meaning they are highly threatened," said Stephanie Sim, RSPB.
She was launching the annual big garden bird watch in Northern Ireland.
It is a UK-wide survey involving more than 500,000 volunteers.
They record what species of birds visit their gardens on the last weekend of January.
"The survey helps to build a picture of which species are in decline and need extra help to boost the population," she said.
"How are different species coping with weather conditions? How are populations faring from region to region?"
Ms Sim said that changes in the environment over the last 20 to 30 years had had an impact on the bird population.
"Pollution has had a huge effect on the house sparrow population in cities and towns," she said.
"It affects the insect population and then the young sparrows have not enough to eat. Also, parasites can decimate an area and that can lead to a 'boom and bust' cycle.
"Houses no longer have cavities for the birds to nest in and that makes a difference."
Birds seen in Northern Ireland's gardens range from chaffinches and collared doves to international visitors like starlings from Eastern Europe, song thrushes from Scandinavia and Arctic birds like the redwing.
The RSPB is advising people to put out bird food now and encourage the birds to their gardens.
People who want to take part in the survey can download a form from the RSPB website or telephone the NI RSPB office at 02890 491547.