'Concern' for family on tanker in Belfast Lough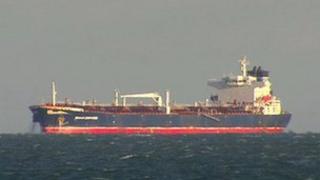 The Irish inspector for the International Transport Workers Federation (ITF) said he is concerned that the operating company of a damaged oil tanker has not moved a two-year-old girl onboard to safety.
The Genmar Companion has been waiting in Belfast Lough after developing a crack on its deck on 16 December.
High winds hampered plans to transfer 54,000 tonnes of oil from the boat.
Ken Fleming said the safety of the 23-strong crew was also a concern.
They are mainly from India and the Philippines.
Mr Fleming said he was "alarmed" to hear that a two-year-old was on the ship and that he would be requesting permission to visit those onboard as soon as possible to assess their welfare.
He said that while the ITF was not making an issue with the fact that a family may be onboard, he said he was concerned that they had not been moved ashore.
Maritime and Coastguard Agency officers met on Thursday evening to discuss plans to move the oil.
The ship remains inside a one-mile exclusion zone. It is a criminal offence to enter the area.
It is anchored off the Copeland Islands. The oil transfer, which could take between 24 and 36 hours, had been due to take place earlier this week, but was put back because of high winds.
The ship will enter Belfast harbour for repairs as soon as the oil is taken off the vessel.
The tanker was sailing from Rotterdam to New York when its deck cracked.
Stringent safeguards are being observed throughout the operation to ensure the safety of the crew, the environment and other vessels in the area.
Rev Colin Hall-Thompson, from The Mission to Seafarers, said it was not "unusual" to have a family travelling together and said provisions were being brought out to the ship.
He said that the vessel offered "comfort" and had plenty of "amenities on board".