Sean Quinn case hears fraud claim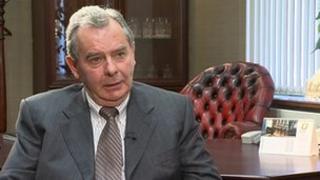 A barrister has told a court that a bank's legal action against the family of businessman Sean Quinn may have uncovered evidence of fraud.
Mark Horner QC, acting for the former Anglo Irish Bank, was speaking during proceedings at Belfast High Court.
A judge extended injunctions which relate to the bank's attempt to seize Quinn properties in Russia and Ukraine.
Mr Quinn declared himself bankrupt in November over an alleged £2bn debt to the bank.
Mr Horner said "other matters" may be brought before the court in the future and that these related to fraud, contempt of court and breach of fiduciary duty.
He did not give further details of what the bank, now called Irish Bank Resolution Corporation (IBRC), claims to have uncovered.
Extending the injunction to 26 January, Mr Justice McCloskey said: "The plaintiffs will seek to adduce further evidence and may wish to initiate new proceedings as the fund of evidence becomes more extensive."
The injunctions were originally granted on 21 and 23 of December and relate to four companies.
Two of these, Demesne Investments and Innishmore Consultancy, have registered offices in County Fermanagh.
Innishmore Consultancy was set up last year and its sole director is Peter Quinn jnr, a nephew of Sean Quinn.
The others are Lyndhurst Development Trading which is based in the British Virgin Islands and Galfis Overseas which is based in Belize.
The injunctions prevent the firms from enforcing or in any way dealing with a number of loan agreements.
Russian and Ukrainian firms
These agreements relate to loans the injuncted companies claim to have made to property firms in Russia and Ukraine.
The Russian and Ukrainian firms control a number of valuable properties which were bought as investments for the Quinn family and which were mortgaged against loans issued by Anglo Irish Bank.
The bank is trying to seize the properties as part of its efforts to recover around £2bn it says the Quinns owe them.
However, it is having difficulty with that exercise and last week suffered a major set back in the Ukrainian courts in relation to a shopping centre in the country's capital, Kiev.
Lyndhurst Development Trading managed to persuade a judge that the company which owns the shopping centre, Univermag, owes it $45m.
As a result Univermag could be forced into bankruptcy with Lyndhurst Development Trading as one of its major creditors.
IBRC say they have never had any dealings with Lyndhurst Development Trading and don't know who controls it.
The injunction suggests that IBRC believes that Lyndhurst took control of the loan agreements in October 2011.
'Cynical deprivation'
It suggests that the agreements came to it via Innishmore Consultancy which had itself taken control of the agreements from Demesne Investments in April 2011.
The Ukrainian court's decision was met with outrage by IBRC director Richard Woodhouse who said he had never encountered such a cynical deprivation of property.
He described the Ukrainian court system as acting as "a tool of legalised robbery of foreign investors".
No one from the the injuncted companies was present in the Belfast court on Thursday and the firms were not legally represented.
Mr Justice McCloskey said the matter would likely go to trial in March. He described the case as "a very complex and minutely detailed financial web."