Model Gemma Garrett urges caution over breast implants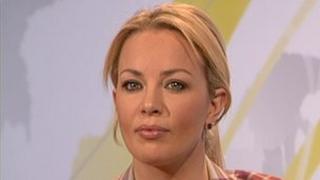 A Belfast model whose PIP breast implants ruptured has warned women to "think twice" about having similar cosmetic surgery.
Former Miss Great Britain Gemma Garrett told the BBC that she had to have her breast implants removed in May.
The French government has recommended that all 30,000 women with PIP breast implants have them removed.
But the UK government has played down any health fears for those with the implants.
The implants made by a French firm - Poly Implant Prothese - were banned last year after they were found to contain a non-medical grade silicone filler.
The French implants were not used by UK health trusts but were available in private clinics. It's estimated about 40,000 women in the UK may have PIP implants.
Mrs Garrett had the implants fitted in London in 2008 but noticed a lump on her breast last year. After consulting her GP she visited another clinic in London where she was told to have them removed immediately.
Her initial breast enhancement cost her over £4,000 and the removal last year another £11,000.
"I found a fantastic surgeon on Harley Street and went there. He examined me and said one had definitely ruptured," she said.
"I asked him what could I do and he said to definitely have them removed as soon as possible. They had to come out straight away.
"He told me there was silicon in my blood system. He didn't know the lasting effects it would have on my health - that's still being investigated - but it is scary that they are telling some people not to worry about it if it hasn't opened up.
"I think if you have PIPs or are in any doubt that you may have them then you need to get them taken out."
The model regrets ever having got the implants and has urged anyone thinking about it to reconsider.
"My family tried to talk me out of it," she said.
"What's even scarier is I was 26 years old when I got it done. There are girls who are 18 making this decision.
"It is a big, big decision. It's life changing and in another 10 years you have to ge them replaced anyway.
"There is not enough information about the dangers. My message is definitely think twice."