Search for Samuel Campbell takes in coast and other areas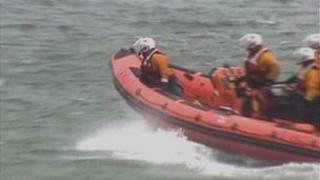 More searches on the County Antrim coast for a missing cyclist took place on Friday afternoon.
Samuel Campbell, 49, set out for a bicycle ride from his Kells home at 14:15 GMT on Sunday but did not return.
On Tuesday night, his bicycle was spotted propped against a wall, a mile outside Glenarm.
The search resumed at 14:00 GMT from Ballygally Head to Garron Point. Police have also been searching the Kells and Moorfields area of County Antrim.
Officers handed out missing person leaflets in Larne, Kells and around the Glenarm coastal area.
Mr Campbell was last seen wearing a red top with the symbol TCG, black cycling leggings and cycle glasses.
Police are appealing for anyone who was cycling in the area and wearing similar clothing to Mr Campbell around the time of his disappearance, to contact them so they can be eliminated from their inquiry.
Friday's search of the coastline was conducted by police, coastguard and the RNLI.
On Thursday, the crews faced challenging weather conditions with gale force winds of about 80mph making the search difficult.
A number of volunteers offered their services on Thursday morning, but police said that due to the hazardous weather and terrain the search had been left to specialist teams.
Police said they were still treating it as a search for a missing person.
On Tuesday, Det Insp Bob Blemmings, who is leading the investigation, said it would be very unusual for Mr Campbell not to contact his family.
He said police were following a number of lines of inquiry.
These include that Mr Campbell had become ill or had had an accident.