Under 35s fear impact of cut in housing benefit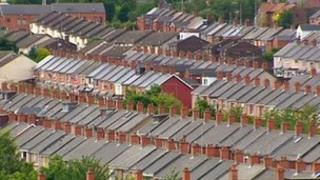 Government changes mean young people aged between 24 and 35, who live alone and receive housing benefit face cuts of up to £40 a week.
Concerns have been raised by housing support groups that many will struggle to find the extra cash to stay in their current accommodation and will have to find shared housing.
Ursula Toner, from the Housing Rights Service, said she had a number of concerns about the change and the potential impacts.
"To be single and in need of accommodation, it is only in limited circumstances that you may be able to avail of social housing and even if you are on the list for social housing, you are likely to be on a waiting list," she said.
"The private rented sector is increasingly under strain in Northern Ireland.
Concern
"We have a context at present where people are losing their homes as a consequence of repossession, of family groups now seeking housing in the private rented sector.
"What concerns us greatly is that the increase in the number of single people needing to access accommodation and because of the housing benefit cuts, more will need to find shared accommodation.
"There is a significant lack of appropriate shared housing in Northern Ireland."
Joanne, 33, is single and has been out of work since the end of March last year.
She lives on her own in a two-bed terraced house.
"I have been relying on housing benefit to pay my rent," she said.
Joanne said the lower rate of housing benefit will mean she is unable to pay her rent.
"They're not able to tell me at the moment how much it is likely to be but it looks like it is going to be about 50% lower that what I am currently getting which just covered my rent and no more," she said.
"It has been a real financial struggle for the past year just trying to survive on Job Seeker's Allowance (JSA) and as a single person obviously I'm only relying on my own income.
Unemployment
"I'm paying all of my bills out of this single income and there just literally isn't any more money there to subsidise this lower rate of housing benefit. I just can't afford to make it up from JSA."
William, 27, lives in north Belfast and has been unemployed since work in the construction sector dried up.
He is also worried about how he will find the extra money.
"My rent is £100 a week," he said.
"At the minute I currently make up £23 of that.
"I got a letter in November to say they were going to cut it by £27, so basically they have cut my rent to £50 that they are going to pay and I am going to have to make up the shortfall on that.
"What I am looking at is being made homeless."
Ms Toner said there was a discretionary housing payment to help people in the short term with the changes.
"The budget for this has been increased from £1.5m to £3m in light of these changes," she said.
"However they are not guaranteed and they are not a permanent payment."
William said he had applied for the extra payment but had been turned down.
Ms Toner said although claimants could not appeal the decision, they could ask for it to be reconsidered.
Homeless
It is not just city dwellers who will be affected by the changes.
Lyndsey Rafferty, works at the M.U.S.T Hostel in Cookstown, County Tyrone.
It provides accommodation for single homeless men and woman.
She said housing and support services are limited in rural areas.
"In bigger cities, like Belfast, there are a lot more options for people," she said.
"We're preparing ourselves for an influx of people who have been living successfully on their own and because of the cuts their life is suddenly in turmoil again and they will have to come in to places like support accommodation and Houses of Multiple Occupancy (HMO).
"When these cuts come in, there are going to be loads of people affected and we're going to receive an unprecedented number of referrals that we're not going to be able to cater for.
"What happens then, where do these people go?"