Lord Feldman says UUP 'wrong to reject Tory merger'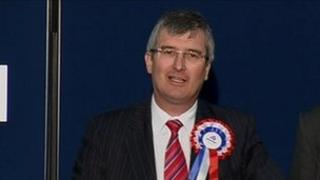 The chairman of the Conservative Party has said the Ulster Unionists have made a mistake by rejecting plans to merge the two parties.
Lord Feldman said the offer to disband the UUP and the Northern Ireland Tories to create a new grouping was "bold and sincerely made".
Writing in the Belfast Telegraph, he said the plan was "to create a modern, centre-right, pro-union party".
Lord Feldman wrote to the UUP last November with his merger proposals.
He said the Ulster Unionists and the Northern Ireland Conservatives would be disbanded and a new grouping formed.
The Conservative peer had hoped that agreement between the two parties could be done in principle by Christmas.
The merger plan was backed by the Prime Minster David Cameron and Irwin Armstrong, chairman of the Northern Ireland Conservatives.
Betrayal
However, three days before Christmas the Ulster Unionist leader Tom Elliott rejected the plan which he had earlier described as "unacceptable".
He wrote to Lord Feldman saying that disbanding his party would have been a betrayal to its voters.
On Wednesday, Mr Elliott defended his party's decision not to merge with the Conservatives.
"There is no comparison between the Northern Ireland Conservatives and the Ulster Unionist Party," he said.
"We have well over 100 elected representatives whereas the Northern Ireland Conservatives have none."
Conservatives and Ulster Unionists have worked closely together in recent years but with limited electoral success.
The two parties formed an electoral alliance for the 2010 Westminster election and fielded joint candidates.
However they failed to win a single parliamentary seat.
For some months, Conservative and Ulster Unionist activists have been considering how the two parties can work together.
The merger option was always going to be deeply unpopular with UUP members and elected representatives.
Party leader Tom Elliott made it quite clear both privately and publicly he would never consider such a move.
However, last month UUP Assembly candidate Lesley Macaulay said the party should consider disbanding.
Support
She described Lord Feldman's plan as "a golden opportunity".
Not surprisingly local Tories have also been keen on a merger.
Last month a number of former UUP members, now Conservative activists, backed the proposal in letters to local papers.
As expected Lord Feldman has confirmed that a new Conservative party will be established in Northern Ireland.
It is the latest attempt to revitalise a party that has made little impact on the local political scene in recent years.
The party has no councillors or MLAs but has appointed a full time worker and established an office in Bangor.
According to Lord Feldman the new Northern Ireland party would have "the same kind of relationship to the national Conservative Party as the Welsh and Scottish Conservative Parties."
The Conservative peer said the local group would be supported by party headquarters in London.