Fewer than 100 homes still without power across Northern Ireland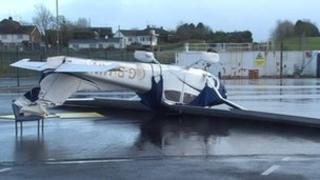 Fewer than 100 homes are still without electricity following the storms which battered Northern Ireland on Tuesday.
Engineers from Northern Ireland Electricity worked throughout the night to repair faults, however, some customers in Ballymoney, Maghera and Coleraine are still without power.
The network was damaged in all parts of Northern Ireland, causing more than 500 individual faults.
Power has now been restored to around 35,000 customers.
Sara McClintock from NIE said: "We worked throughout the night and by this morning we have restored power to all but the very worst affected customers.
"We will be moving staff from Local Incident Centres where faults have been repaired to the worst affected areas in the north.
"We still have a number of faults on the rural low voltage network and will be working to restore them throughout the day. Some customers will experience temporary losses of supply as permanent repairs are made during the day. "
The strongest recorded gusts in Northern Ireland on Tuesday were 75mph in Castlederg, with speeds of 105mph in north Donegal in the Irish Republic.
The areas worst affected were the north and east coasts.
The strong winds disrupted traffic, with trees blocking several roads.
Some property was also damaged and the police said motorists should take extra care and slow down.
In Enniskillen, an Asda store had to close after the wind ripped off part of the roof.
A number of roads were closed in various parts of Northern Ireland including Belfast, Londonderry, Coleraine, Larne, Lurgan, Omagh and Downpatrick.
The Foyle Bridge in Derry was also closed, whilst some train and bus services were disrupted.
The weather also affected a number of ferry sailings.
In Derry, a pensioner was left badly shaken after a tree crashed down near his home on Monday night.
Last year, a similar incident caused extensive damage to the home of 88-year-old Samuel Douglas in Broomhill Avenue in the Waterside area.
"The tree is right up against the wall (of the house)," he said.
"A car has already crashed into the tree."
Customers can report a fault to their electricity supply on 08457 643 643.
NIE said it was responsible for the electricity network and would "repair faults no matter what electricity supplier issues your bill".