Father of Turkey murders accused arrested by police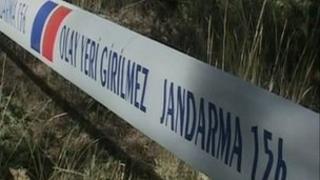 The father of a Turkish man accused of murdering two County Down women has been arrested.
Recep Cetin's father has been taken into custody on Thursday night to be questioned about the murders of Marion Graham and Kathy Dinsmore.
The women were stabbed to death in August near Izmir.
Mr Cetin was the boyfriend of Shannon Graham, Marion Graham's 15-year-old daughter.
Baris Kaska is the lawyer who represents the victims' families.
"They did the murder together in my opinion," he said.
"I asked the prosecutors in the adult court on Thursday to arrest him because this crime was committed together, jointly, not solely by Recep Cetin, so it is very big news."
On Thursday, a judge ruled that Recep Cetin will have to have a bone marrow test to find out how old he is.
He claims he is 17, but lawyers representing the families of the two women believe he is older.
If he is over 18, he will be tried in an adult rather than juvenile court.
That means he would face a much tougher sentence if convicted.