Attwood to rule on Giant's Causeway golf course plan by end of January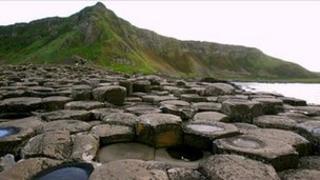 A decision on whether to build a controversial golf resort beside the Giant's Causeway will be made at the end of January, Alex Attwood has said.
It follows news that developer Alistair Hanna told a US magazine he expected Mr Attwood to approve his proposal for a hotel and golf course.
The National Trust is fiercely opposed to the plan.
Mr Attwood said there were strong environmental reasons to refuse and strong economic reasons to say yes.
"The issue is that it is an area of outstanding natural beauty, that this is a Unesco World Heritage site but then there is economic benefit - this is a new hotel that will profile the area and the north in terms of economic and golfing opportunities," he said.
The developer, Mr Hanna, is originally from Northern Ireland but now lives in the US.
North Antrim MP Ian Paisley Junior who supports the application said: "This application has been processed for nine and a half years - it is a terrible advertisement for people who want to come and do business in Northern Ireland.
"It is very emotive for people to report that this is beside the Giant's Causeway. It is over a mile away from the causeway. It will utilise a beautiful countryside area to its very best.
"This will bring economic opportunity and prosperity. The tourism board recognises this is the ideal sort of application for this area."
However, Ian Binnie from the Causeway Coast Communities Consortium is against the development.
"It is within the distinctive landscape setting of the Giant's Causeway, that setting has certain protection," he said.
"Ian Paisley is ignoring the fact that this golf course is combined with a 120-bedroom hotel and 75 houses and a golf academy - this is a huge amount of development. We fully appreciate the need for high quality service accommodation and the potential employment, but this is just not the place.
"There is only one Giant's Causeway why should we jeopardise the World Heritage status for an unproved resort?"
In a letter sent to Mr Attwood, the National Trust said the proposal was "inherently and fundamentally wrong".
It warned that it could lead to the loss of world heritage status for the site and that the economic arguments put forward for the proposal were "subjective and seriously flawed".