Sean Quinn fails in bankruptcy legal application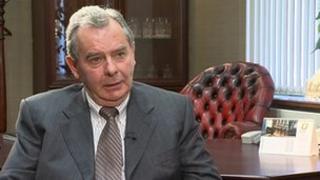 Sean Quinn has failed in a legal bid to have new bankruptcy proceedings against him in the Irish Republic put on hold.
A Belfast High Court judge refused his request to restrain the former Anglo Irish Bank from serving him a summons.
With the injunction application denied, papers are now set to be served at his home in Ballyconnell, County Cavan.
However, the bank - renamed the IBRC - said it would not try to bankrupt Mr Quinn until the conclusion of a related legal case in Belfast.
In that case IBRC (Irish Bank Resolution Corporation) are trying to have the former billionaire businessman's Northern Ireland bankruptcy annulled.
Mr Quinn declared himself bankrupt in November over an alleged £2bn debt owed to the bank.
This week the bank argued that the Northern Ireland bankruptcy was invalid as Mr Quinn's so-called 'centre of main interests' was outside Northern Ireland.
It said that by declaring himself bankrupt north of the border it added cost and complexity to their attempts to recover the money they are owed.
During this week's case, the bank said it would bankrupt Mr Quinn in the Republic if they manage to overturn the Northern Ireland bankruptcy.
The latest court appearance shows they are making preparations to do so.
In court in Belfast on Thursday it emerged that a bankruptcy summons was drawn up in Dublin last week.
Mr Justice Deeny declined to grant an injunction after being told IBRC would ask for the southern case to be adjourned until he has ruled on the attempt to have the tycoon's bankruptcy in Northern Ireland annulled.
By declaring bankruptcy in Northern Ireland, it means Mr Quinn only has to wait 12 months before going back into business - rather than 12 years in the Republic.
'Trying to divert attention'
The businessman's barrister, Paul McLaughlin, had urged the court to restrain the IBRC action pending a further order.
He claimed the bank was attempting to divert attention in the case to the Republic.
David Dunlop, for IBRC, argued that Mr Quinn's application was misconceived.
He stressed there was no attempt by his client to "abdicate" the jurisdiction of the High Court in Belfast.
Mr Dunlop confirmed that no attempt would be made to have any petition determined until the centre of main interest issue was resolved.
Mr Justice Deeny held that there was no basis for concluding the bank was acting in bad faith.
He said: "They have said they will commence proceedings but will not take the crucial step of seeking an order of bankruptcy in the Republic until the determination of the annulment application before this court.
"On those grounds I refuse the application."