The top religion and ethics stories of 2011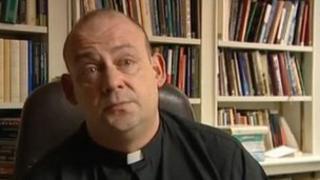 This has been a year of big stories globally, nationally and locally with many shaped or coloured by religious and ethical dimensions.
From the revolutions sweeping through the Middle East to the traumatic implications of phone-hacking revelations for British journalism.
Uprisings dominated the year. The domino-effect of revolution has so far touched Tunisia, Egypt, Libya, Bahrain, Syria, Yemen, and many other countries in the Middle East.
Colonel Gaddafi lost his life after a civil war in Libya, and in Egypt, President Mubarak lost his job.
We had our own, decidedly more muted protests in some parts of Britain and Ireland.
Unwittingly, Saint Paul's Cathedral became an architectural metaphor for a national debate when cathedral authorities tried to remove the anti-capitalist tent city that is still encamped on its doorstep.
That was too much for one of their senior clerics.
"The church should not put its name to any course of action that may lead to violence against the protesters. I can't in conscience go down the road on which they are embarked," said Canon Dr Giles Fraser.
With those words, he said goodbye to his job at St Paul's Cathedral and plunged one of Britain's leading public institutions into even greater chaos.
Ethics of assassination
The killing of Osama bin Laden triggered an international debate about the ethics of assassination (if, that is, he was assassinated).
Former Irish president Mary Robinson became a leading voice in expressing "moral unease" about the killing. He should have been arrested and brought to justice, she said.
It was also a year of commemorations and celebrations marking the 400th anniversary of the Authorised Version of the Bible.
Even the arch-atheists Richard Dawkins and Christopher Hitchens penned celebratory essays.
Prime Minister David Cameron capped off a year of celebrations with a lecture reminding Britons that they live in a Christian country and should celebrate that too.
Mid-year, Rupert Murdoch shut down the News of the World, which had been in existence since 1843, after revelations of phone-hacking and other questionable practices at the newspaper.
The government soon launched a public inquiry, led by Lord Justice Leveson.
The Leveson Inquiry into the culture, practices and ethics of the media has already produced some extraordinary testimony which may lead to proposed changes in press regulation.
Catholic Church
Ethical practices within the Catholic Church were the continuing concern of the Irish government.
Following the publication of Judge Yvonne Murphy's review of the Catholic diocese of Cloyne, Taoiseach Enda Kenny issued a stinging rebuke to the Vatican from the floor of the Dail.
He accused the Catholic hierarchy of putting the Church ahead of child rape victims.
The latest revelations, he said, had exposed a dysfunctional, elite hierarchy determined to frustrate investigations, and he warned the Holy See that religion does not rule Ireland.
"For the first time in Ireland, a report into child sexual abuse exposes an attempt by the Holy See to frustrate an inquiry in a sovereign, democratic republic as little as three years ago, not three decades ago," he said.
In August, and to the great relief of the Presbyterian Church, thousands of people across Northern Ireland received cheques in the post from the failed Presbyterian Mutual Society (PMS).
A rescue package underwritten by the Westminster government and the Stormont executive allowed those who invested less than £20,000 to get all their money back.
Larger investors received 85% of their money, with final settlements dependent on the sale of PMS assets.
There was less cheering in the Church of Ireland as it emerged that one of their senior clergy, the Very Rev Tom Gordon, had entered into a civil partnership with his partner of 20 years.
That outraged some conservative members of the Church of Ireland, particularly in Northern Ireland.
But Dean Gordon revealed that he entered into the new legal partnership with the full knowledge of his bishop, Michael Burrows, and that his relationship has been supported by members of his congregation.
The Church of Ireland's House of Bishops soon announced that they would hold a crisis summit in the Spring of 2012 and encouraged their clergy and members to resist un-Christian language in public debates about the controversy.
Celibacy
If Anglicans were plunged, yet again, into a debate about sexuality, Catholics were, at least momentarily, reflecting on celibacy.
In September, the former Bishop of Derry Dr Edward Daly called for an end to mandatory clerical celibacy, suggesting that the rule discouraged many well-qualified young Catholics from ordained service.
Why the bishop waited until his 77th year to share this conviction with the public remains something of a mystery.
That same month, Northern Ireland's health minister, Edwin Poots, ruled that sexually active gay men will not be permitted to donate blood, leading to allegations of "irrational prejudice".
The health ministers in England, Scotland and Wales had already lifted the ban on the basis of a new review of the clinical evidence which concludes that there is no significant risk to public safety warranting a continuation of the ban.
Politicians from across the political spectrum in Northern Ireland joined leaders from the main Protestant churches in attending the funeral of the murdered Catholic police officer Ronan Kerr.
At the Requiem Mass in April, Cardinal Sean Brady appealed to dissidents: "In God's name stop - and stop now!"
Norway massacre
As the year progressed, we began to get a better picture of Anders Behring Breivik, the man who murdered 68 men, women and children in two attacks in Norway on 22 July.
It emerged that Breivik passionately hated Muslims and, bizarrely, appeared to have believed he was defending Christian values by assaulting the multicultural outlook of contemporary Europe.
Court-appointed psychiatrists assessing Breivik later concluded he was clinically insane, a paranoid schizophrenic who should be treated as such.
The year ended with the sad news of Christopher Hitchens's death at the age of 62.
Amongst those who stepped forward to pay tribute to the "new atheist" as one of the greatest prose writers and public intellectuals of our age were a coterie of Christians who befriended him between bouts of intellectual sparring.
These included Pastor Douglas Wilson, who co-starred with Hitchens in a documentary recorded on their touring debates, and Dr Francis Collins, the evangelical Christian who heads America's National Institutes of Health and who advised Hitchens on new treatments for cancer.
Perhaps the strangest story of the year was the rapture that failed to materialise.
Harold Camping is an eccentric American pastor and a serial predictor of the end of days.
He previously announced that the Rapture would take place on 21 May 1988, then again on 7 September 1994.
His most recent prediction, 21 May 2011, came and went, so he "reinterpreted" his prophecy and Judgment Day was re-scheduled for 21 October 2011.
The fact that you are reading this now is evidence enough of the need for a further re-scheduling.
Apparently an "invisible judgment day" took place last May, so invisible that it took the pastor two days to realise it has happened.
Harold Camping later apologised for the whole eschatological mess and resigned from ministry.