Dear Santa: Son discovers mother's 100-year-old Christmas letter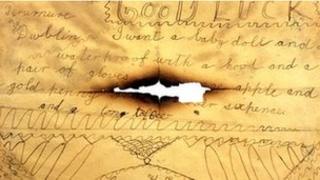 The ghost of Christmas 100 years past arrived early for a County Down man when he discovered the Santa letter his late mother wrote when she was a girl.
The scorched letter, dated Christmas Eve 1911, had been up a chimney in a Dublin house for decades.
Victor Bartlem's mother, Hannah Howard, had written her Christmas wish list when she was 10 years old.
It was first discovered in 1992 when the current house owner John Byrne installed central heating.
He came upon Hannah's letter in the chimney and decided to keep it as a memento of times past.
He made it public this week in the Irish Times and it was there that Victor - living more than 100 miles away in Bangor, County Down, - read about it.
He was sitting at home when his wife read from the newspaper about the little girl from Oaklands Terrace, Terenure who put her letter up a chimney. It was then that he realised that she was his mother.
"I simply couldn't believe it. I never knew about this letter. I never even knew it existed," Mr Bartlem said.
"I could not believe it, it was absolutely amazing and it is such a sweet, typical child's letter."
Mr Bartlem said he was overwhelmed at people's response to the letter.
"It is in the spirit of the time we are in at the moment which is Christmas," he said.
On her Christmas list, Hannah wrote: "I want a baby doll and a waterproof with a hood and a pair of gloves and a toffee apple and a gold penny and a silver sixpence and a long toffee."
Hannah was born on Christmas Day 1900. Mr Bartlem said his mother attended the Zion Church of Ireland in Raphoe and married Alfred Bartlem in 1931.
She had two sons, Howard and Victor. She died in 1978.