Charities providing Christmas cheer with free meals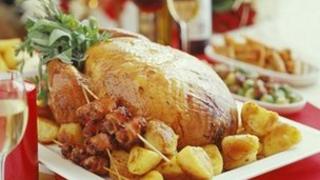 Christmas is traditionally a time when families come together to socialise over the holidays.
Others may chose to spend it alone by choice but for others it is a necessity.
Some local charities are hosting Christmas dinners for those who do not want to spend the day alone.
The Crossfire Trust, based in Darkley, near Keady in County Armagh has been providing company and a hot meal for the past 20 years.
The event is hosted in Darkley House, a former mill owner's house, which provides residential accommodation for those who need support.
"It's a big country house. We just love the idea of opening it up to the community to enjoy and share," said Ian Bothwell from the charity.
"Some are just coming for morning coffee and mince pies at 11.
"We're serving lunch at one and we conclude afternoon tea around four o'clock and people normally go home around six o'clock."
Most of the 20 people coming live within a 10-mile radius.
"We're also delivering some dinners to people in their own homes. It's going to be busy around one o'clock.
"Afterwards people are expected to come into the kitchen and help wash up."
Mr Bothwell said a variety of people would be coming on the day.
"We have single people, others are wheelchair bound, a complete range, male and female, Catholic and Protestant."
He said it would be a family affair.
"My children have been brought up on community work and they laugh at the idea of sitting at home bored and look forward to coming up to Darkley House and making Christmas happen for other people," he said.
"For us it's a way of life."
Also preparing to host a Christmas gathering is the Common Grounds cafe in Belfast.
Adam Nicholas, the supervisor, said they had been providing Christmas lunches for the past five years.
"There are a lot of lonely people at Christmas especially in the asylum-seeker community and it was our aim to give them somewhere to go," he said.
"We now include homeless people and anybody from any nationality who is lonely at Christmas, who just wants a bit of company to come along and enjoy a free dinner, bit of craic and usually some live music."
The cafe is open from 12:00 until 15:00 GMT on Christmas Day.
They're expecting between 100 and 150 to turn up for lunch.
Helping homeless
"Last year we had about 80 through the door but each year it gets more and more and more," said Mr Nicholas.
"We're particularly interested in the homeless this year because of last year's cold weather and the deaths that happened on the streets last year.
"It really did hit Common Grounds and we wanted this year to be a bit more about the homeless and asylum-seeker community."
Every year the cafe receives support from the wider community.
"Café suppliers supplied most of the food for this event free of charge," he said.
"We also receive monetary donations. They do it every single year.
"A local business does a charitable walk each year which raises hundreds of pounds for this event."
Volunteers from the City Church and cafe will be joined by others who want to get involved and give their time on Christmas Day.
"They just come ,give their time and then they go home and spend their own Christmas at home with their families," he said.
"It's just people wanting to do something different, have an alternative Christmas, maybe not so commercial, not so about themselves but about other people."