Massereene murders trial finishes hearing evidence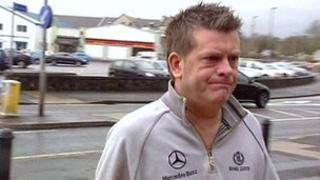 The trial of two men accused of murdering two soldiers in March 2009 has finished hearing evidence with verdicts expected in the new year.
Colin Duffy and Brian Shivers deny the murders of Sappers Mark Quinsey and Patrick Azimkar at Massereene barracks.
Earlier a barrister for Mr Shivers said he was a "highly unlikely terrorist".
He said he had no criminal record and his limited life span, because of his ill health, would tend to have a sobering effect on him.
During his closing argument, Pat O'Connor QC said Mr Shivers was unlikely to "out of the blue" become involved in a terrorist venture.
The court had heard previously that a doctor had told Mr Shivers four months before the attack on Massereene that he had five or six years left to live due to cystic fibrosis.
'Miniscule amount'
Mr O'Connor urged the court to treat DNA evidence with caution.
He said the amount allegedly linking his client to the getaway car was minuscule.
It is the Crown's case that Mr Shivers' DNA was found on a mobile phone and matches in the getaway car and one matchstick outside it.
Mr O'Connor said one item contained just "one thousand-billionth" of a gram of DNA.
The two soldiers were shot dead while they collected pizzas outside the base. A number of other people were injured.
As well as the murder charges, Mr Duffy, 44, from Lurgan and Magherafelt man Mr Shivers, 46, both deny six charges of attempted murder and one of possession of guns and explosives.