Football banning orders come into force in 2012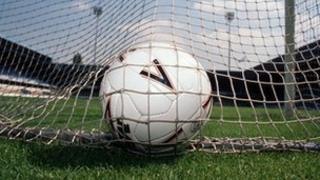 Football banning orders will come into operation at the beginning of 2012, the justice minister has confirmed.
The orders will allow a court to ban a person from attending certain matches in Northern Ireland.
Other powers aim to improve community safety, provide better services to victims and witnesses in court and reduce the number of people going to prison for fine default.
"The measures will make football grounds safer," said David Ford.
"The Justice Act which I took through the last assembly addressed issues to improve the justice system and build a safer, shared society for all the people of Northern Ireland."
Mr Ford said it would be an issue for a judge to decide exactly what offences would lead to a banning order.
"Clearly anything which led to violence in the ground, threats to other people, disorderly behaviour, would be the kind of thing which might well come within the remit," he said.
"Offences such as assault would actually be covered by the normal law as it applies to assault.
Safe environment
"The specific issue is to ensure that similar actions can't be repeated by introducing the banning orders.
"That's the basis on which we're working with the sporting bodies to ensure that we introduce the necessary legislation to keep sporting grounds safe and family friendly for all who want to go."
Jim Boyce, FIFA vice president, and honorary life president of the Irish Football Association, welcomed the move.
"If someone misbehaves in the street they're arrested and taken to court and they're dealt with, but inside soccer grounds when people have misbehaved, this just really has not happened," he said.
"It should have been introduced many years ago.
"Now the power is there that if people misbehave in a soccer ground then they can be dealt with and they can be dealt with by the law, and I think that that is a very important step forward."
To reduce the number of people imprisoned for fine default a pilot scheme will be launched in the Newry Petty Sessions District providing unpaid work placements as an alternative to custody if an individual defaults on a court-imposed fine.