Sean Quinn court: Bank 'put surveillance on factory'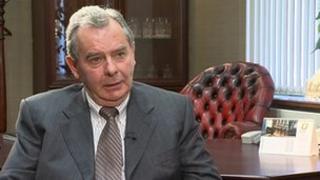 The former Anglo Irish Bank put a factory in Co Cavan under surveillance after hearing businessman Sean Quinn planned to start a new company there.
The details emerged during a High Court hearing in Belfast.
The bank, now the IBRC, is attempting to have Mr Quinn's bankruptcy in Northern Ireland annulled.
IBRC executive Richard Woodhouse said the bank instructed a security firm to watch the Belturbet factory after he became aware of rumours on a GAA blog.
The security firm, RMI, later saw Mr Quinn and some of his managers at the disused tyre factory.
Mr Woodhouse denied that Mr Quinn or members of his family were being watched by the Dublin-based security firm.
He said that "people weren't being followed" and that surveillance was "too strong a word" for what was happening.
RMI was founded by former Irish army officers and works regularly for Irish Bank Resolution Corporation (IBRC).
Mr Woodhouse said that a newspaper later reported that Mr Quinn was planning to set up a new insurance firm called Q2.
Mr Quinn declared himself bankrupt in Belfast last month over a multi-billion pound debt allegedly owed to Anglo.
The bank maintains that Mr Quinn was not entitled to make himself bankrupt in Northern Ireland as his so-called "centre of main interests" is in the Republic.
Main interests
The bank said the NI bankruptcy adds cost and complexity to its dealings with Mr Quinn.
Mr Quinn's barrister, Mark Orr QC, has been seeking to convince the judge that his client's centre of main interests are in Derrylin in County Fermanagh.
Mr Orr said that while IBRC investigated alleged Quinn business in the Republic they had made no effort to find out if Mr Quinn was carrying on business in Northern Ireland.
Mr Quinn claims to have been operating from an industrial estate in Derrylin since May this year.
However, Mr Woodhouse said the first he learned of an alleged office in Derrylin was in Mr Quinn's affidavit for the current case.
He said in the case of Belturbet, he was responding to information but he had "never heard a single comment about a purported office in Derrylin".
'Expelled'
Mr Orr also claimed that the affairs of the Quinn family were conducted from Derrylin and it was custom and practice for the bank to send all Quinn family correspondence to the former Quinn HQ in Derrylin.
He said that when IBRC took possession of the Quinn businesses in April that meant Mr Quinn was "expelled from the place where he conducted his business and family affairs".
He said it was "a fundamental plank" of Mr Quinn's case that he did not choose to move his centre of main interests from his long-standing HQ.
He added that Mr Quinn then quickly sought to establish a new office in the Derrylin Enterprise Park.
He also said that Mr Quinn had a UK National Insurance number and was drawing a UK state pension.
Mr Quinn was stripped of control of his manufacturing and insurance business empire in April.
He was reputedly worth 4.72bn euros (£3.7bn) at the height of his success.
He said he brought the bankruptcy application north of the border because he was born, reared and worked all his life in County Fermanagh.
Mr Orr said that if the bankruptcy was annulled there was nothing stopping Mr Quinn filing for bankruptcy in Northern Ireland for a second time and "he could do so very quickly."
However Gabriel Moss QC, for the bank, said it would not be straightforward for Mr Quinn to pursue a second bankruptcy in those circumstances.
Mr Justice Deeney said the case involved "weighty matters, not without complexity" and that he would reserve judgement until the new year.
Speaking outside the court Mr Quinn said he accepted he had made a "big mistake".
"People like me were foolish enough to get stuck in at the height of it," he said.
"I borrowed too much money and believed in banks, believed in institutions, believed the country was going to continue to expand.
"I shouldn't have put all my eggs in one basket, I shouldn't have bought so many shares. I got so involved and shouldn't have believed in the hype of the Anglo thing."