Cloyne abuse victims meet Bishop Magee in new year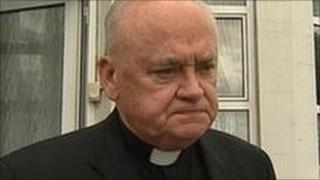 Clerical sex abuse victims in the Cloyne diocese in the Irish Republic will be able to meet Bishop John Magee in the new year.
Bishop Magee was in charge of the diocese while abuse allegations went unreported.
The report into the handling of abuse in Cloyne found serious lapses in how children were protected.
Under a new scheme, victims may also meet Monsignor Denis O'Callaghan who was in charge of child protection.
Monsignor O'Callaghan was severely criticised in the report.
The scheme was announced by Archbishop Dermot Clifford, who took over responsibility for the diocese two years ago.
He said a similar scheme in the US had been a success with victims.