Risk of fire death higher in Northern Ireland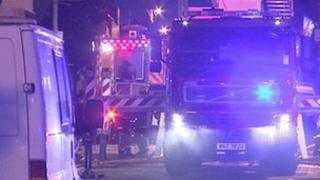 The risk of deaths and injuries from fire is still higher in Northern Ireland than in other parts of the UK, according to an audit office report.
The report also found that although incidents of arson have fallen by over a third in the past five years - the number is still higher than in England.
Overall the fire service was described as performing "adequately".
In 2010/11 there were 11 accidental fire deaths in Northern Ireland homes and 137 serious injuries.
There were 806 residential fires and 1,832 deliberate blazes.
"Historically there has been a higher incidence of fires and deaths and injury from fire in Northern Ireland when compared to similar services in England," the report said.
"Performance is still below the family group average in these important areas and more significantly the rate of improvement is also lower."
While praising the work of firefighters, the report added: "With the pressure on finances mounting for all public services, NIFRS will need to continue to identify how it can be more efficient and reduce costs, including staff overtime for example, through its resource management review project.
"The Audit Commission's key finding was that it assessed NIFRS as performing adequately overall.
"Had the Audit Commission been scoring NIFRS, as it would have done in a review of an English fire and rescue service, NIFRS would have received a score of level two, an organisation that meets minimum requirements and performs adequately."