Massereene accused Brian Shivers says he has only years to live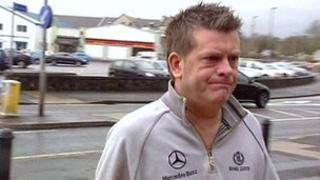 One of the men accused of murdering two soldiers at Massereene barracks in March 2009 has been in the witness box.
Brian Shivers told Belfast Crown Court that just months before the attack he had been told he only had a few years left to live.
He is charged along with Colin Duffy of killing Sappers Patrick Azimkar and Mark Quinsey at the barracks in Antrim in March 2009.
Both men deny the charge.
Mr Shivers told the court he had nothing whatsoever to do with the crime.
He said he had been to about three or four meetings of the republican political group Eirigi at the invitation of his friend Dominic McGinchey, but had never joined the group, nor had he been inspired by it and he had no desire to be involved in anything political.
Mr Shivers also said he had never even met Mr Duffy prior to his arrest.
He also told the court he suffered from cystic fibrosis from an early age and in the November before the attacks on Massereene barracks, he had gone to the hospital with his fiancée to be told he had only five or six years left to live.
He said that was hard hitting and said he had other things in life to do rather than getting involved in anything like that.
Under cross-examination by the prosecution he said he would often smoke cigarettes with Dominic McGlinchey, who had been arrested and released after the Masserene shootings.
Mr Shivers said it had become a running joke that Mr McGlinchey would often disappear with his matches.
The prosecution case is that Mr Shivers' DNA was discovered on a mobile phone and matches linked to the getaway car.
He had no explanation for material discovered on a mobile in the Vauxhall Cavalier, which was found in Randalstown after the shootings.
Mr Shivers outlined his movements on the day of the attack but admitted that no-one could vouch for him.
The prosecution barrister put it to him there were too many coincidences at play.
Prosecution barrister Terence Mooney QC put to him: "You were involved in this attack along with your friend Dominic McGlinchey."
He added: "I suggest you have indicated your support by the attendance at meetings at an organisation that can only be described as at the dissident side of republicanism.
"You have manipulated your fiancee to try and concoct a story."
Mr Shivers denied the accusations.
DNA profile
Earlier on Monday, the court heard from a DNA expert for the defence.
Prof Dan Krane said the DNA in the case against Mr Duffy was in small amounts, did not necessarily mean he had been in direct contact with the getaway car and could have got there through secondary transfer.
Prof Krane said: "What it establishes is that his DNA may be associated with the glove and it may be associated with the belt buckle of the car.
"The presence of a DNA profile per se does not say anything about the timeframe or the circumstances under which the DNA came to be there.
"The DNA tests themselves cannot answer that type of question.
"That is left more to a court or a jury to decide what those circumstances and timeframe (are). The DNA tests can simply tell us that DNA was found on those items."
Prof Krane told Belfast Crown Court sitting in Antrim that the sample relating to Mr Duffy came from a mixture of DNA from two or more people, meaning there was a possibility that somebody other than Mr Duffy came into contact with the glove.
He said Dr Mark Perlin, a prosecution witness who used an innovative DNA analysis method to link the accused to the getaway car, did not have a proper understanding of certain effects associated with the research.
Prosecution barrister Terence Mooney QC said the witness had opposed efforts to advance the use of DNA analysis.
"As soon as you lose the battle on an issue you move to another one and create more confusion," he said.
"Throughout your career in giving evidence in forensic cases you have tried to build up impediments to the advance of DNA being used in court."
Prof Krane disagreed.
As well as the murder charges, Mr Duffy, 44, from Lurgan and Magherafelt man Mr Shivers, 46, both deny six charges of attempted murder and one of possession of guns and explosives.
The trial continues.