'Peace wall' gate at Belfast's Alexandra Park may open for longer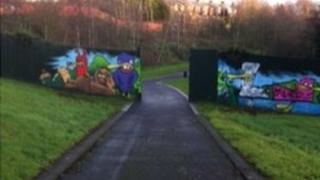 Residents living at an interface in north Belfast are to be asked if they want the opening times of a park gate to be extended.
The Alexandra Park fence or "peace wall" was put up in 1994 to try to stop sectarian fighting.
The gate was opened in September from 09:00 to 15:00 on weekdays.
Following a three-month period, the opening times are now going to be be reviewed with a full consultation.
It is thought to be the only park in western Europe with a three-metre high fence running through the middle.
Gerry O'Reilly is an interface worker based on the mainly nationalist Limestone Road.
"You see people exercising, coming in with children in the prams, people jogging, so it has that sense of a park again," he said.
"It's breaking down that whole thing of them and us.
Small steps
"What we're looking to do is, now it's five days a week, we're taking it back to the community for further consultation to see if they want it extended - with the hope that we'll be open for further days during the week."
Sam Cochrane works at North Belfast Community Development and is a local resident in the unionist community.
He said he would be gathering the views of Protestants living in the area.
"People want access but they still want the comfort and that wee bit of security," he said.
"Until we do the survey and ask the people who live around the area if it is time to take it down, we won't be pushing for it to come down.
"A lot of people on the ground, the younger ones, didn't even know there was a pond in Alexandra Park, they actually thought it was two parks."
Mr Cochrane said there had generally been a positive response from the local community.
'Vision'
"They do want the park opened up and they are getting the benefit of using the whole park in general," he said.
"The wall coming down - that would be my vision, to see it coming down."
Mr O'Reilly said they were taking small steps.
"People were bringing up the issue with us again and again about the walls and you have to ask yourself 'why were the walls put up?'," he said.
"For me the walls were put up for people to feel safe and secure.
"Do people now feel safe and secure? We have to go to the people to ask is that how they feel.
"If that is how they feel then we need to be dealing with the situation, then that would be progress."
At present there are 49 "peace walls" in Belfast.