Ruling over Francois de Dietrich money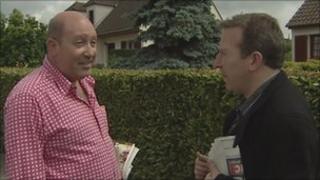 The financial regulator has obtained an order requiring a businessman at the centre of a suspected investment scam to pay up to £21.5m.
People on both sides of the border fear they lost millions of pounds invested with Francois de Dietrich.
The Financial Services Authority (FSA) secured judgment at the High Court in Belfast in its case against him and his firm ETIC Solutions.
A judge ruled the FSA was entitled to recover all losses of ETIC's clients.
Mr Justice Deeny said: "The sum involved only consists of deposits and not of the sums promised to the investors in this illegal investment scheme."
The order represents the total amount identified as having been deposited in the scheme. Interest was also included in the order at a rate set at 6%.
Mr Justice Deeny declined to fix interest at a more punitive level. "We don't at this stage know the profits made by the defendants and I'm unwilling to speculate on this at the present time," he added.
Legal costs were also awarded to the FSA. The summary judgment, delivered without a full trial of the issues, was for up to £21,556,576 in total.
Laura Gillespie, a lawyer at McGrigors who has been acting on behalf of the FSA, says: "We welcome today's decision which is a major step forward in the litigation against Mr De Dietrich.
"The result again demonstrates that the authorities are committed to stamping out wrongdoing no matter where it takes place."
An injunction to stop de Dietrich accessing or moving any funds remains in force.
Scores of people on both sides of the Irish border, many based in the Donegal area, invested in the scheme which promised high returns.
However, de Dietrich disappeared leaving investors with massive losses.
The FSA then intervened and obtained a freezing order to the value of £20m to prevent the dispersal of assets linked to de Dietrich.
Whereabouts unknown
He has insisted that his businesses were legitimate and that he was working to return all outstanding money.
The current whereabouts of the Frenchman, formerly based in Ballybofey, County Donegal, remain unknown.
In January he was jailed in his absence for 18 months for contempt of court in failing to fully disclose his worldwide assets.
With a warrant out for his arrest, he was last seen in France after being located by a team from the BBC's Spotlight programme.
Lawyers representing de Dietrich are due to appeal against the prison sentence next month.
They are expected to argued that the order for full disclosure was draconian and that he complied with requirements to reveal all business interests on either side of the order.