Smithwick: Alleged republican agent Freddie Scappaticci could testify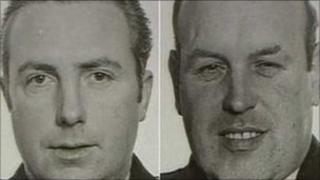 Belfast republican Freddie Scappaticci may give evidence to the Dublin-based Smithwick Tribunal.
It follows a third day of evidence to the tribunal from Newry man Kevin Fulton, a former British agent who infiltrated the IRA.
He repeated claims that Mr Scappaticci was a British agent in the IRA known by the code name 'Stakeknife'.
The tribunal is investigating claims of Garda collusion in the 1989 murders of two senior RUC officers.
Counsel for Mr Scappaticci, Martin O'Rourke, applied for a second counsel for his client - who has denied the allegations made against him
The chairman of the tribunal, Judge Peter Smithwick, said he would consider that request if Mr Scappaticci would agree to give a statement to the tribunal and turn up to give evidence.
"That is being given active consideration by my client," replied Mr O'Rourke.
The tribunal was told on Friday of an IRA death threat sent to Mr Fulton's address in Newry in February 2001.
"You have been sentenced by court martial in your absence. You are charged. General order no. 5 part 5, general order no. 11, on both charges you were found guilty. The penalty for both charges is death. Sentence to be carried out at our convenience."
The letter was signed "'P O'Neill, Oglaigh na hEireann".
When asked why he had travelled from the UK to give evidence to the tribunal Mr Fulton said: "I started something and I had to finish it."
When asked what would the IRA think about what he was doing in giving evidence Mr Fulton said: "It's treachery, they would kill me."
He denied he was lying about the collusion allegations he made against a former Dundalk-based garda Det Sgt Owen Corrigan. Mr Corrigan denies all allegations of collusion.
IRA commander
Earlier on Friday, Mr Fulton claimed a former IRA bomb-maker was a secret agent or was being protected by some state agencies "north and south".
The former agent spoke of how he came to the conclusion that Patrick 'Mooch' Blair was effectively another agent.
"After the Omagh bomb I did target him specifically but it was all thwarted by police," he said.
Mr Fulton claimed he had passed on information about Blair to his handlers and what he described as "golden opportunities" to arrest him were not followed up.
"He was being protected by some state agency north and south," he said. "He walked on water, so more or less, he was an agent."
Blair was sentenced to 15 years in prison in Northern Ireland in 1975 for the attempted murder of an RUC officer and possession of firearms.
He has previously acknowledged to the tribunal that he was active in the IRA over three decades but denied he was a commander, saying he was no more then a "volunteer".
The tribunal is investigating the murders of Chief Superintendent Harry Breen and Superintendent Bob Buchanan.
They were shot dead in south Armagh shortly after leaving a meeting at Dundalk Garda station.
Mr Fulton was also cross-examined by Martin O' Rourke, legal counsel for Mr Scappaticci.
"Do you deliberately overstate your own importance," Mr O'Rourke asked.
"No, I am not as important or unimportant as anyone else" Mr Fulton replied. "Maybe your client is understating his importance."
During heated exchanges Mr Fulton told Mr Scappaticci's legal counsel that it was an "actual fact" that your client "is an informer and he is 'Stakeknife'".
Mr Fulton also spoke of his wish to "recede into the background".
"I would like to disappear, I am sure there are some people who could arrange that," he said.