'Bad bank' Nama 'may enter' NI mortgage market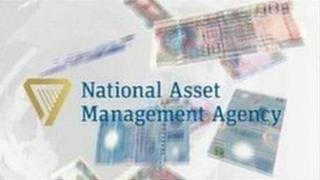 Irish government agency, Nama, which controls bad property loans taken from the banks, is considering entering the mortgage market in Northern Ireland.
The agency currently controls more than £3bn worth of property loans in NI.
It is piloting a scheme in the Republic of Ireland which guarantees that buyers will not lose out if the value of the house that they buy falls.
Nama chairman Frank Daly said if the scheme proved successful he would consider extending it to NI.
"We're looking at options, particularly in the residential market because we are very conscious of the fact that one of the real barriers there at the moment - obviously finance is a barrier - but even where people who might have finance, they have this fear that the day after they buy, they will be in negative equity if the price begins to fall.
"So we're trying to trial a product that actually gives them some guarantee there."
Nama has 750 properties which will go on sale in the Republic of Ireland in the new year under the scheme.
It could extend it to 5,000 properties if successful.
Nama will defer 20% of the house price and after five years there will be a revaluation.
If the house has fallen in value, the purchaser will not have to pay that figure, up to a value of 20%.
BBC Northern Ireland economics and business editor Jim Fitzpatrick said Nama's primary objective was to get funds for the Irish government.
However, he said the pilot scheme did not have unqualified support.
"There are concerns at a government level that incentives caused part of the problem during the boom and ideologically they are not sure whether they want to get involved in property incentives," he said.
"It will be interesting to see how politically it might work in Northern Ireland where Nama are big players and there are concerns at Stormont about their influence in the property market to the extent that Finance Minister Sammy Wilson is looking for a full board seat on Nama and we are not clear yet whether he is going to get that."
Mr Wilson was meeting with Mr Daly on Friday and was to discuss the issue with him.
"He had spoken to me about it previously, the Finance Minister Michael Noonan had spoken to me about it previously, it will be interesting to see what impact it has," he said.
"This will only apply to Nama properties.
"It will not be an intervention that will wave a magic wand for all of the property market."
Mr Wilson said it would be up to the Irish Finance Minister Michael Noonan whether he was given a place on the Nama board.
"The last discussion I had he (Mr Noonan) made it quite clear that he was not ruling this out, that they were looking at a review of the Nama board, he listened carefully to the arguments I put forward," he said.
Mr Wilson said the Northern Ireland representatives on the advisory panel had carried out a "constructive role" which had helped "the case he wanted to make".
Property sales
Meanwhile, in another development, Mr Daly said that Nama is in close contact with the Northern Ireland Executive to co-ordinate plans for selling off properties.
Nama has taken over property loans in Northern Ireland with a nominal value of £3.35bn - many of the related properties will have to be sold to repay the loans.
The Northern Ireland Executive is also planning a major programme of property sales over four years with the aim of raising £540m.
Mr Daly said that co-operation on this issue was "the top priority" for the agency's Northern Ireland advisory committee.
The committee consists of four Nama directors and two independent members.
Its purpose is to advise on the particular circumstances in the Northern Ireland property market and to advise in relation to strategy for Northern Ireland assets.
The property market in Northern Ireland is in the doldrums with a large amount of property for sale, but with few buyers and little available finance.
The NI Executive's own investment strategy, published in November, warned that "current market conditions are not favourable for an extensive programme of asset disposals".
Mr Daly said that co-operation was necessary to ensure Nama and the Executive did not damage each others' markets.