Kevin Fulton 'knew RUC officers who passed information to IRA'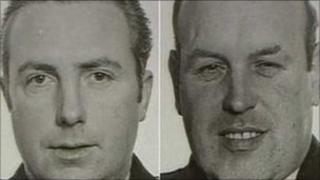 A former British agent has claimed that he knew of two RUC men who passed information to the IRA.
Kevin Fulton was testifying at the Smithwick tribunal into alleged Garda collusion in the IRA murders of two other RUC officers on 20 March 1989.
Earlier, he denied being a "pathological liar" at the tribunal in Dublin.
It is investigating the murders of Chief Superintendent Harry Breen and Superintendent Bob Buchanan.
They were shot dead in south Armagh shortly after leaving a meeting at Dundalk Garda station.
Mr Fulton, a former British agent who infiltrated the IRA, was cross-examined at the tribunal on Thursday. He spoke of how "top IRA men in Newry thought I was a great IRA person".
He described his work as a double agent as a "labour of love" and confirmed that he had previously worked for the British Army, MI5, Customs and Excise and the police.
Mr Fulton claimed there were "cops in the north also helping us". When asked to clarify if he was suggesting some RUC officers helped the IRA, he said: "Of course there was. Certain ones are public knowledge, others are not."
"One was convicted and the other was arrested and they managed to get him out, he was an RUC reservist, he was associating with an IRA man in Dundalk, Thomas 'Slab' Murphy, the police knew about it as well."
Mr Fulton wrote the names of the RUC officers for the chairman of the tribunal, Judge Peter Smithwick, and said he had no objections to the names being passed on to DUP MP Jeffrey Donaldson.
Mr Fulton was also asked for his reaction to previous evidence from RUC witnesses who described him as a "fantasist" and intelligence nuisance.
"I have done things that I am not proud of and they would be party to that" he said, "Maybe it's good to discredit someone who could do them harm."
"Sir Ronnie Flanagan called me a 'Walter Mitty' character but he later apologised for that."
Mr Fulton has claimed that Owen Corrigan, a former detective sergeant in Dundalk was passing information to the IRA and was regarded as a "friend" of the group.
Describing that allegation as "astonishing", Jim O'Callaghan, counsel for Mr Corrigan, asked Mr Fulton if he had informed his handlers.
"Yes, you might describe it as astonishing information but when it becomes day-to-day, it is no big thing," Mr Fulton said.
Mr Fulton, who is giving his evidence behind a screen, would not name the handler but wrote the name down for Judge Smithwick.
Mr Fulton conceded that he could not give the tribunal any specific examples of where Mr Corrigan assisted the IRA before 20 March 1989. He later denied that he was a "pathological liar" in respect of his evidence to the tribunal.
He claimed an IRA member told him that the IRA operation to mount an IRA ambush had started after they were tipped off that the RUC officers were at Dundalk Garda station on the afternoon of 20 March 1989.
In a statement to an earlier inquiry held by Canadian judge Peter Cory in 2003, Mr Fulton alleged that former Detective Garda Corrigan saw the RUC officers "at the station" and "telephoned the IRA".
Mr O'Callaghan pointed out the difference in the statement he gave to the Smithwick Tribunal where he said "our friend" helped out.
"I am putting it to you that a lot of what you are saying is speculation" said Mr O'Callaghan.
"I never said it was anything else" Mr Fulton answered. He refused to withdraw allegations he made about Mr Corrigan.