Derry IRA masked colour party accused freed on bail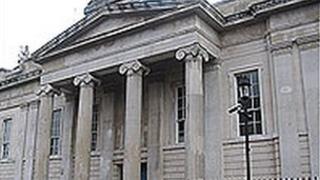 A 41-year-old Londonderry taxi driver has been charged with taking part in a 32 County Sovereignty Committee commemoration on Easter Sunday.
Patrick John McDaid, of Beechwood Avenue, is alleged to have been in a masked colour party at the event.
He is charged with assisting in arranging or organising the event which he knew to be in support of the IRA in the City Cemetery on Easter Monday.
Mr McDaid, who denies the charge, was released on bail until 22 December.
Londonderry Magistrates Court heard that at the event, a masked man read out a statement threatening an upsurge in the Real IRA's violence against police officers.
Masked man
A prosecuting lawyer told District Judge Barney McIlholm that following the rally, police searched a number of houses including the defendant's home.
She said a number of photographic images were recovered showing a masked man which the police believed to be the defendant.
The lawyer said images recovered from a computer showed police officers carrying out their duties.
She added that documents recovered during the searches contained minutes which indicated that the defendant had been tasked to organise a colour party for the Easter Monday commemoration rally.
Granting bail, the district judge ordered the defendant to lodge a £1,000 surety with the court office.
Mr McDaid was also banned from crossing the city boundaries and banned from attending any illegal or prohibited public meetings.
He was also placed on a 22:00 to 08:00 GMT curfew and ordered to surrender his passport.