Massereene murders: Colin Duffy evidence 'tenuous'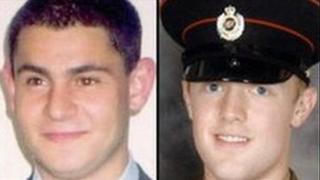 The defence barrister for Colin Duffy has said the evidence against him is so tenuous no jury could convict on it.
Mr Duffy and Brian Shivers deny killing Sappers Patrick Azimkar and Mark Quinsey at Massereene Barracks in Antrim in March 2009.
The defence teams have started their submissions in the case.
Barry MacDonald said the only evidence against Mr Duffy was DNA on a latex glove tip and a mixed DNA profile on a seatbelt buckle in the alleged getaway.
There is no evidence, he said, as to when it was deposited there.
Mr MacDonald said the court had heard evidence that the gunman who escaped in the passenger seat of the getaway car - which allegedly contained Mr Duffy's DNA on the seatbelt - was left-handed and over 6ft tall, while Mr Duffy is right-handed and under 6ft.
The barrister said: "The crown is not in a position to ascribe any role to Mr Duffy.
"They are not in a position to advance any evidence pointing reasonably to the conclusion that he played any part at any particular stage.
"The suggestion is that because the DNA was present in the car in the circumstances described, he must have been involved in the joint enterprise to commit this murder or these attempted murders.
"That simply does not stand up in our respectful submission."
Earlier, the court heard that Mr Duffy's wife told arresting police that he had not been out on the weekend of the Massereene murders.
The trial also heard details of the two accused's police interviews.
A detective constable agreed Mr Shivers had denied involvement in the attack or of being in an illegal organisation.
The court heard when questions were put to Mr Shivers, he regularly made no comment.
He told police he had been at home on the night of the killings with his girlfriend.
Soil samples
When it was put to him that his DNA was found in the alleged getaway car, he said if it was his, he didn't understand how it would have got there.
Meanwhile, soil sample evidence which allegedly linked Mr Duffy to the murders will not be admitted to court, a judge has ruled.
Mr Justice Anthony Hart said it would be prejudicial to the defence if reports from Dr Patricia Wiltshire were admitted without her being present.
She is unable to attend for cross-examination because of ill-health.
Dr Wiltshire examined soil samples and fungal spores from Mr Duffy's boots, a holdall and other items recovered by investigators.
The defence had expert witnesses who contradicted Dr Wiltshire's reports.
Judge Hart told Belfast Crown Court sitting at Antrim: "I am satisfied that to admit Dr Wiltshire's reports without her being present to give evidence would result in a situation where the defence would be irredeemably and significantly disadvantaged by not being able to press her on all those matters that are clearly at issue."
The two soldiers were shot dead as they collected pizzas outside the base in Antrim in March 2009, the night before they were due to leave for Afghanistan.
As well as the murder charges, Mr Duffy, 44, from Lurgan and Magherafelt man Mr Shivers, 46, both deny six charges of attempted murder and one of possession of guns and explosives.
The trial continues.