Ex-priest James Donaghy guilty of 23 charges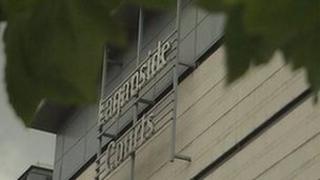 A former priest has been found guilty of 23 sex abuse charges against three men.
James Donaghy, 53, from Lady Wallace Drive in Lisburn, faced 26 charges between June 1983 and December 2000.
He was found not guilty on one charge of common assault. The jury was unable to reach a verdict on two remaining charges and the judge discharged them.
The prosecution will inform the judge on Friday if they wish to ask for a retrial on the final two counts.
They related to one of the victims, Father Patrick McCafferty.
The others were former altar boy James Doherty and a former trainee priest who cannot be named.
On Wednesday, the jury returned unanimous verdicts on 16 of the charges and majority verdicts on the other three.
Among the offences he was convicted of were indecent assault and serious sexual assault.
Judge Patrick Lynch QC told the jury on Thursday that before he proceeds to handing down the "inevitable" jail term, reports would be compiled both on Donaghy and on his victims.
Church investigation
Donaghy ministered most recently in Bangor in County Down. He stepped down from the priesthood in 2004.
Following the verdicts, the Catholic Church announced that its own investigation, which had been suspended during the term of the trial, would now resume.
In a statement, the Diocese of Down and Connor, offered "sincere and unequivocal apologies to all those who have suffered abuse by clergy and religious".
"Bishop (Noel) Treanor hopes that the proceedings at Belfast Crown Court and the jury's decisions will assist the victims concerned in this case on their journey towards healing," the statement said.
"He prays that all who have suffered so profoundly in this process will now be enabled to find inner strength and peace."
The statement said that the diocese had co-operated fully with all relevant authorities and would continue to do so.