Kevin Fulton tells Smithwick Tribunal Garda mole 'open secret'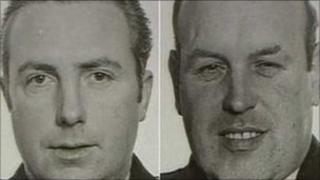 A former British agent undercover in the IRA has told the Smithwick Tribunal it was an open secret that a Garda officer in Dundalk was helping the IRA.
The tribunal is investigating alleged Garda collusion in the murders of RUC officers Harry Breen and Bob Buchanan in south Armagh in March 1989.
Kevin Fulton, whose real name is Peter Keeley, said the Dundalk officer was referred to by the IRA as "our friend"
He said the officer had helped the IRA out on a number of occasions.
Mr Fulton infiltrated the IRA in the mid-1980s and said he was taught how to make bombs by Patrick "Mooch" Blair.
He said he was in Blair's house when news came in of the murders of Chief Superintendent Breen and Superintendent Buchanan.
They were shot dead by the IRA shortly after leaving a meeting at Dundalk Garda station.
'Our friend'
Mr Fulton said he was told "our friend" the garda was involved.
He said he believed that person to be retired Det Sgt Owen Corrigan, although his name was not directly linked to the murders.
Mr Corrigan denies all allegations of collusion.
Mr Fulton said he met Owen Corrigan once - when he was with 'Mooch' Blair. He claimed Mr Corrigan told Blair of a County Louth farmer who had agreed to turn informant for the Garda.
That farmer, Tom Oliver, was later shot dead by the IRA.
He also told the tribunal there was not a day when the IRA was not trying to kill a member of the security forces.
Mr Fulton will be cross-examined at the tribunal on Thursday.