Miami Showband massacre HET report due for release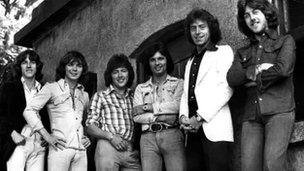 The families of the murdered members of the Miami Showband will give their reaction to a report by the Historical Enquiries Team (HET) on Wednesday.
Three members of the band were killed in July 1975 after their minibus was stopped by a fake army patrol.
The patrol was made up of soldiers from the Ulster Defence Regiment (UDR) and members of loyalist paramilitary group, the Ulster Volunteer Force (UVF).
The HET was established to look at controversial Troubles-related deaths.
The Miami Showband was travelling home to Dublin after a gig in Banbridge, County Down, when the minibus was stopped at a roadblock.
The members of the band were made to line up at the side of the road while one UVF member tried to hide a bomb on the bus. The plan was that the bomb would explode en route killing everyone on board.
But the bomb went off prematurely, killing Harris Boyle and Wesley Somerville - who were members of the UDR, as well as being in the UVF.
After the explosion the other members of the UVF gang opened fire on the band, killing lead singer Fran O'Toole, guitarist Tony Geraghty, and trumpeter Brian McCoy.
The bass player Stephen Travers was also seriously hurt and barely survived his injuries.
Three members of the UDR were eventually convicted for their part in the attack.
James Somerville, Thomas Crozier and James McDowell all received life sentences, and remained in jail until their release under the terms of the Good Friday Agreement.