Garda collusion 'hindered RUC investigations'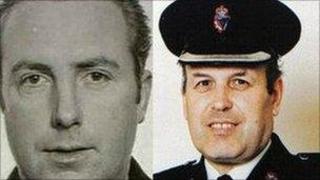 A retired senior RUC officer has told a tribunal he was hindered in murder investigations because of alleged Garda collusion with the IRA.
The Smithwick Tribunal in Dublin is investigating the IRA murders of two senior RUC officers in March 1989.
Witness 70 claimed it was "common knowledge" that former Detective Sergeant Owen Corrigan in Dundalk Garda station was actively assisting the IRA.
Mr Corrigan denies all allegations of collusion.
Witness 70 said he had been briefed by Special Branch and warned not to go to Dundalk.
The former CID inspector spoke of his frustration that RUC colleagues were being shot dead by an IRA unit based in Dundalk, but he could not seek assistance from Dundalk Garda station.
The Dublin tribunal is investigating suggestions that a Garda mole passed information to the IRA which led to the murders of Chief Supt Harry Breen and Supt Bob Buchanan.
They were shot dead in south Armagh shortly after leaving a meeting in Dundalk Garda station.
Witness 70 said it was "commonly spoken" following the murders that they were set up by the garda in Dundalk.
'Likeable rogue'
Witness 70 also told the tribunal he was introduced to a former British agent within the IRA, Kevin Fulton, in the late 90s.
He described him as a "likeable rogue" who had "a sinister side", and knew a lot about IRA activists in Dundalk.
He said it did not surprise him that Mr Fulton was described as "an intelligence nuisance" by Special Branch, because he said they did not want an informant of theirs talking to CID.
The witness, giving evidence from behind a screen, spoke of how Kevin Fulton had brought him and a colleague to a remote location south of the border where the Omagh bomb was alleged to have been made.
But they had no authority to enter or inspect the location.